Posted on
Thu, Feb 24, 2011 : 5:17 p.m.
The Power of One with Dianne Marsh: Software maven, triathlete inspires girls and women in tech
By Kimberli Cumming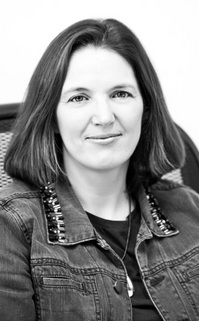 Photo by Emily Tishhouse of Emily Kay Photography
Our Power of One series continues this week with software maven and triathlete
Dianne Marsh
. Marsh is no stranger to being a woman in a male dominated industry; she co-founded one of the region's most highly-regarded software firms,
SRT Solutions
, in 2000.
The Power of One series is inspired by the work of activist attorney and Ann Arbor legend Jean King. King's tireless efforts to enforce Title IX led to gender equity in athletics, academics and in the professional world. King will be honored at a celebration of her life's work on March 26 at the Ann Arbor Marriott Ypsilanti at Eagle Crest.
How has Jean King's work impacted your current professional success?
I wasn't particularly good at any sports, but my high school did win the state girls basketball championship three of the four years while I was in high school. I participated as a cheerleader, and we were treated as part of the team. Our school was one of the few at the time that supported cheerleading for girls sports. The recognition and support from the community was amazing. Personally, my experience brought me out of my shyness and built my confidence.

Tell us about your athletic background.
I tend to avoid competitive sports. I prefer to exercise more for fitness, enjoyment and stress relief rather than for competition. After college, I became active in a lot of individual sports, such as cycling, mountain biking and swimming.
What sports/ activities are you active in now?
Before having children, I completed a few sprint distance triathlons. This past year, I started doing that again. I had remained active in the individual sports of swimming, biking and running, but putting them all together adds an interesting challenge and entertains me more. I've set a goal for 2011 to complete an Olympic distance triathlon (twice as long as a sprint). When I'm not doing triathlons, my favorite sports to participate in are mountain biking and cross country skiing.
What difference do you think one person can make in the world?
We can all lead by example. Follow what you think is right, but keep an open mind to others and don't be afraid to shift your direction.

What advice do you have for women who want to achieve success in your chosen vocation?
I've got two messages for different audiences.
For young girls: Software development is a male-dominated field. I've never understood why. Boys tend to self-assess their skills more strongly than girls. In other words, those boys who think that they're better at math and science and computer programming than you are... probably aren't. They just think that they are.
For women who have left the field after having children: Software development is a fast-moving profession. This can be used to your advantage when you re-enter the workplace. Jump in, slightly ahead of the curve. Don't worry about learning everything that you missed while you were off having kids. Most of it is irrelevant anyhow. And most of the men aren't keeping up either, so jump back in! You'll be quickly ahead of most people who never took a break.
Photo by Emily Tishhouse of Emily Kay Photography

<em>Kimberli Cumming is executive director of <a href="http://www.womenscentersemi.org">The Women's Center of Southeastern Michigan</a>. The Women's Center is a major human service provider in the Washtenaw County area, providing direct services to over 500 women and girls (and some men) annually. Reach Kim at kim@womenscentersemi.org.</em>