Posted on
Thu, Dec 15, 2011 : 6:15 a.m.
Fly fishing becomes a route to recovery for wounded veterans and women surviving or suffering with breast cancer
By Tom Teague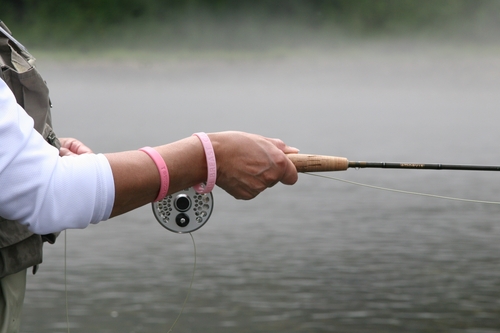 Photo by Kim Singer for Casting for Recovery
I'm stepping outside the normal two-week cycle of this column to make two recommendations for those of you who are making your year-end charitable donations.
Project Healing Waters and Casting for Recovery apply the skills, lessons and peaceful settings of fly fishing to help wounded veterans returning from combat and breast cancer survivors and sufferers.
Project Healing Waters is dedicated to the "physical and emotional rehabilitation of active duty military personnel, Reserve, Guard and Veterans with disabilities," according to its website. The organization currently runs programs in Saginaw and Detroit.
"Project Healing Waters is a unique program," regional director Paul Riccuiti said. "We work with our vets every two weeks or month — teaching the great sport and building relationships." He noted that the outings are a culmination of these efforts and that Project Healing Waters has a dozen programs in the Midwest and nearly 100 nationwide.
Casting for Recovery helps women who have survived or currently have breast cancer by providing retreats complete with lessons, counseling, and companionship. Casting for Recovery was founded by a breast reconstructive surgeon and avid fly angler who realized that the fly-casting motion was similar to post-operative exercises for breast cancer patients.
Casting for Recovery is hoping to re-establish a Michigan program presence, according to Peggy Miskin, the National Program Director; she noted that Michigan programs stopped upon the death of the state's program coordinator.
Local organizations are stepping up to help: Five Michigan fly anglers have organized the Paint Creek One Fly contest; next year's contest is tentatively planned for Saturday, June 2 in Rochester, Mich. All proceeds from the contest will be donated to Casting for Recovery.
Both organizations rely on contributions to offer their programs at no cost to participants. Both are 501(c)(3) charitable organizations and each has a link for donations on its website linked above.
The websites are full of inspiring stories and photos of wounded soldiers and cancer survivors helped by these two organizations. They give insight into the healing benefits of fly fishing: quiet hours on beautiful waters, time with new and old friends, the happy pursuit of a sport that always calls on you to adapt to nature's changing conditions.
Just as I was posting this column, I learned about a third organization Reeling and Healing Midwest; according to its website, the organization uses a volunteer staff to "champion fly-fishing wellness retreats for women battling and surviving cancer." It also is a 501(c)(3) charitable organization. I'll include more information about Reeling and Healing Midwest — and revisit Project Healing Waters and Casting for Recovery — in future columns.
I haven't intended to exclude anyone, so if you know of other organizations that use fly fishing to promote rehabilitation or recovery from trauma or disease, please drop me a note at the email address below.
Send me an email if you are tying unique flies, involved in activities related to local fly fishing, or even have a great Michigan fly fishing story to share. Columns will be published every other week, more often if there is news to share. They will have a focus on fly fishing in Michigan and regional waters.
Tom Teague is a local consultant, writer and fly angler posting every other Friday in the Lifestyles section of annarbor.com . You may email him at tom@tomteague.com.