Posted on
Sat, Aug 7, 2010 : 6 a.m.
Emily Tishhouse aims to make clients aware of their beauty through photography
By Ellora Gupta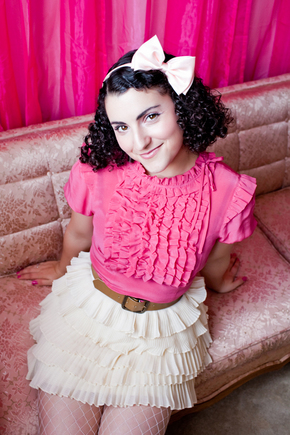 When Emily Tishhouse looks through the lens of her camera, she only sees how beautiful people are. Through her passion for photography, Tishhouse said she wants to make other people aware of their beauty as well.
"When people come in, they don't have any confidence," she said. "Then after, when they have seen their pictures, they leave so confident and positive."
Tishhouse started her photography business, Emily Kay Photography, in Ann Arbor two years ago after moving from Kalamazoo. However, her passion developed long before that.
"I've been taking photos all my life," she said. "When I was five, I would steal my parents' camera to take pictures of random things. That's how it started."
While pursuing an education degree at Western Michigan University, she continued exploring her interest in photography. She began taking senior photos and head shots of her friends for fun, but it quickly developed into the beginning of a portfolio.
"At first, it was just for friends, but it became more about building a portfolio and learning how to use my equipment," said Tishhouse. "It was learning to understand light and composition, photo editing, because I had no formal training."
After graduating in 2008, Tishhouse tried getting a teaching job, but to no avail. Around the same time, people who saw her photos began asking her to privately shoot portraits, head shots and senior photos. This propelled her into her a career in photography.
Tishhouse spends a majority of her time working. When she is not scheduled for a shoot, she is editing photos.
"On the weekdays, I'm consumed in editing from the time I wake up to the time I go to bed," she said. "It's great though because I enjoy it so it doesn't feel like work."
At first, Tishhouse said she was nervous to be behind the lens and working with these paying clients.
"Sometimes I feel a little bit nervous because I'm not sure what the client is going to want," she said. "So I take a variety of composed images and angles to try to get the client's vision."
However, Tishhouse felt that the nerves faded quickly every time she began a shoot. She enjoys meeting the clients and helping them take perfect photos.
Passionate People
Emily Tishhouse
Age: 24
Hometown: Kalamazoo
Occupation: Professional photographer
The story: Without any formal training, Emily Tishhouse began her own business in photography and making people aware of their own beauty.
"It's always exciting to meet someone new and you pretty much jump right in, and start taking their pictures," she said.
According to Tishhouse, the best part of her job is seeing a happy client.
"I love when my clients are happy and they're so excited to share them with everyone and tell all their friends," she said.
She added that making her clients see how beautiful they are is another driving force behind her passion. In her photos, she said she always highlights the positive aspects.
"Sometimes if you look the in the mirror you see only the bad parts," she explained. "I want people to realize that other people see them as beautiful, to show them what they're not seeing."
Ellora Gupta is a junior at the University of Michigan with a strong interest in passionate people. If you want to share your passions or the passions of others, please contact her at egupta@umich.edu.