Posted on
Thu, Jun 30, 2011 : 6:30 a.m.
Gay marriage: Is it all about who you know?
By Wayne Baker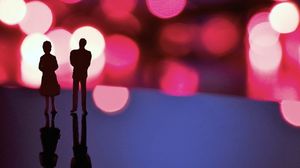 Photo from WikiMedia Commons
Editor's note: This post is part of a series by Dr. Baker on Our Values about core American values. This week Dr. Baker is discussing the recently passed same-sex marriage legislation in New York and its implications for the future of "marriage equality" in the U.S.

If you know someone who's gay, are you more likely to oppose or support gay marriage?
Opposition to gay marriage often stems from moral and religious concerns. But it also comes from not knowing anyone who is gay.
In fact, having a friend, colleague, or family member who is homosexual doubles the likelihood of support for gay marriage, according to a recent Pew study.
Millennials are much more likely to know someone who's gay, which is a key reason this group of young Americans supports same-sex marriage. Senior Americans who know someone who's gay are more likely to support gay marriage, compared to their age peers who do not. But a big difference between Millennials and seniors is that few members of this older group of Americans actually know someone who's homosexual.
Over half of Americans age 65 and older said they couldn't name a single gay person they knew personally — or even a gay celebrity. Only 19 percent of Americans under 50 said the same, as did only 27 percent of Americans between 50 and 64.
Seniors are not more likely to cite moral or religious reasons behind their opposition to gay marriage. They just don't know gay people. Lack of familiarity breeds uncertainty, doubt and concern.
Given that values change by what is euphemistically called "intergenerational replacement," it seems like the tide will continue to turn.
But that doesn't mean it will be smooth sailing in many states. For some, that's good news. For gay-rights activists who hope to parlay the passage of New York's law into a national movement toward "marriage equality," it's not.
Right now, 29 states have constitutional amendments that restrict marriage to one man, one woman. An additional 12 states have statuary laws restricting marriage to one man and one woman. These laws would be hard to overturn.
The amendments are even harder as they signal strong political will against same-sex marriage. States with constitutional or statuary bans are all over the map, including every region of the nation.
The liberal northeast is the only region that contains a number of states that have sanctioned same-sex marriage. So it's not surprising that gay-marriage advocates are turning to this region to chalk up additional gains, focusing on Maine, Delaware, New Jersey and Pennsylvania. Oregon and California are also targets. California is unique in that it's the only state that legalized same-sex marriage and then retracted this policy. We discussed this reversal in 2008.
Do you support legalized gay marriage?
If so, is it because you know someone who's homosexual?
If you oppose it, do you know anyone who's gay?
Is same-sex marriage sanctioned in your state?
Do you approve or disapprove?
Do you think we'll see more states following New York?
Dr. Wayne E. Baker is a sociologist on the faculty of the University of Michigan Ross School of Business. Baker blogs daily at Our Values and can be reached at ourvaluesproject@gmail.com or on Facebook.