Posted on
Thu, Feb 24, 2011 : 9:19 a.m.
Generation Y, Millennials: Do motives matter when it comes to volunteering?
By Wayne Baker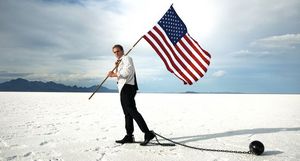 Photo courtesy of Read the Spirit
Do you know where Generation Y is headed, besides into debt? Service! We seem to be flocking toward serving America. Today, we'll look at why that poses other problems for our generation.
All this week, we're looking at challenges facing Generation Y — those aged 18-29, sometimes called Millennials or even the Boomerang Generation. Tuesday, we looked at Millennials' boundless optimism. As a generation, we're restlessly searching for options. Some of us travel, some go back to school, and many of us compete to the death for unpaid internships.
What do these options all have in common? They're incredibly expensive and add to the huge debt Millennials will spend decades trying to pay off.
The average college student graduates $24,000 in debt. With alarming unemployment levels, this kind of debt leaves many students looking toward options such as federally funded service programs that defer or cancel student loans — especially Peace Corps, AmeriCorps or the armed forces. Recruitment numbers for all three have dramatically increased over the past five years. In fact, applicant numbers for AmeriCorps, which includes the popular Teach for America program, nearly tripled in the past two years.
Though these programs are often short-term, they offer young adults a meaningful way to pass the time as they wait for more career opportunities to open up. As a result, Millennials gain needed experience, make important connections and give back to their communities and country.
Researchers maintain that other factors aside from the economy also contribute to the surge in service among young people. National tragedies — including 9/11 and Hurricane Katrina, as well as President Obama's call to service — have encouraged Millennials to act for change.
Whatever is driving our generation in this direction, acceptance rates in these programs are edging toward the very employment numbers young adults are trying to avoid in a competitive job market. Teach for America, which boasts recruitment of the most "elite college graduates," accepts a mere 12 percent of all applicants — a rate on par or lower than acceptance at most Ivy League universities. Most young adults looking into service programs are left in the same discouraging, unemployed position as before.
What are young graduates left to do? Teach for America promises to double the number of corps members it accepts by 2015, but is this enough to change prospects for the millions of Millennials?
Extreme competition for service positions may not be the only problem with increased popularity for volunteering.
According to an annual study at the University of California-Los Angeles, more than 70 percent of college freshmen believe the chief benefit of college is to increase one's earning power — the highest percentage ever reported since the study was first conducted in 1971. Pair this with the historically high number of Millennials volunteering, and some could argue these two bits of data refute one another. (Care to read the report? Here's a four-page PDF of the UCLA findings.)
What do these figures mean? In short, volunteerism looks good on a resume — most employers highly regard community service, and some universities even require students to log hours as volunteers. Many service programs attract new applicants by offering benefit packages that include job placement support, priority for federal employment or highly-valued networking opportunities. Recent graduates are quickly jumping on these opportunities.
So, are Millennials helping others — only to help themselves?
Statistics from programs like Teach for America tell us otherwise. More than 30 percent of the program's alumni stay in the classroom after completing their two years of service, and more than 60 percent remain in the field of education. The Peace Corps boasts high percentages of returned volunteers in the nonprofit and development sectors. Intensive application processes as well as grueling work assignments may also help ensure that those whose only motives are self-interest are quickly weeded out.
How do you see the relationship between motives and outcomes? Does volunteering change a person's path in life? Or, are volunteers entering these programs with intentions to continue in similar sectors? And, are young people helping — to help themselves?
Do motives matter?
If you've signed up to volunteer, what motivated you?
How should we weigh our need for money against our hope of helping?
Gayle Campbell is a recent U of M graduate and the Media Director at OurValues.org, an online magazine promoting civil dialogue on American ethics and values. Gayle can be reached at Gayle.OurValues@yahoo.com.