Posted on
Fri, Sep 23, 2011 : 7:01 p.m.
Green Hands program helps spread eco-friendly skills
By Linda Lombardini
Clifford Dean Scholz is working on spreading green know-how, and he's doing it handily.
Clifford started the Green Hands Reskilling Initiative earlier this year. Its motif is a green hand sign that you place in your window to let others know you have green skills to teach and talk about. It's like the blue "helping hand" signs from the 60s and 70s, but for grownups.
"When I was growing up in the Lansdowne neighborhood of Ann Arbor, I was taught that if I were ever hurt or lost or scared, I could safely go to a house that had the Blue Hand sign in its window," Clifford says.
"The Green Hand is also an invitation, telling adults there's a person in your neighborhood willing to 'Green Handshare' skills and knowledge. You can put an email address or phone number on the sign to screen the responses."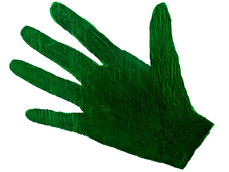 The Green Hand means the people who live there invite you to learn how to reskill yourself: learn to bake bread from scratch, sew a quilt, grow a garden big enough to feed your family all year. In other words, rekindle the household and husbandry arts lost to mass manufacturing and big-box stores.
"Suppose you're raising chickens, as is now legal in Ann Arbor," he says. "Put up a Green Hand and let others know you have a skill to share."
The Green Hand Reskilling Initiative sounds warm and fuzzy, but there's also an urgency to it. As a peak oil educator, Clifford is looking into a future where petroleum is too costly to continue business as usual and seeing the need to build community connections and local economies in response.
"People don't realize how fundamental petroleum is. Currently the danger is not about 'running out of oil,' as many say. It's about not having enough of it to continue economic growth at the pace the financial system requires to remain stable. It's not even about price, really. Even $1 gas is too costly when you're out of work or your retirement plan was reduced to rubble by the latest market moves.
"Friends tell me not to focus on that. Too discouraging. But it doesn't hurt to know there's a sense of mission to the Reskilling Initiative," he says.
There's much more to learn — and plenty of good reasons to. Read Clifford's blog and website. And if you have skills to share, you've got a sign to make.
Linda Lombardini lives happily and greenly in the town mostly likely to "talk to the Hand." You can contact her at Linda@TrilliumRealtors.com.