Posted on
Thu, May 26, 2011 : 12:11 p.m.
Higher Education: What's the social benefit of college?
By Wayne Baker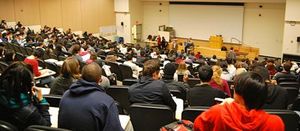 Photo courtesy of WikiMedia Commons
Editor's note: This post is part of a series by Dr. Baker on Our Values about core American values. This week Dr. Baker is discussing the value of higher education, and whether or not college is really worth the cost.
The financial value of a college education is clear. College grads earn about $550,000 more in their lifetimes compared to high school grads, as we discussed Tuesday. But making more money is a "private" benefit, economists say, enjoyed primarily by the recipient and his or her immediate family. Are there any "social" benefits?
A social benefit means that a person who earns a college degree creates benefits for other members of society.
What might those benefits be? One is that college grads live healthier, longer lives. This means they continue be productive and to pay taxes, contribute to Social Security, and so on. Better health means they make fewer demands on the healthcare system.
But living longer also cuts the other way, as economists who study the value of education point out. Eventually, college grads stop working and start drawing on tax-funded retirement programs.
The earnings boost that comes from a college degree means that college grads are contributing to economic growth and development. College grads are less likely to commit crimes. And, they make more-informed political decisions.
Three of four college grads in Pew's new study on the value of college said that college helped them increase their knowledge and grow intellectually. Two of three said that college helped them grow and mature as a person. Just over half said it helped to prepare them for a job or career.
Not all agree, however, that college is adequately preparing young graduates for adult life.
In fact, in a New York Times op-ed published yesterday, sociologist Richard Arum says recent college grads are "aimless, misled, and in debt." Arum is the author of "Academically Adrift: Limited Learning on College Campuses". We know about the record debt burden shouldered by many college grads, which we discussed earlier this week on OurValues.org.
But aimless and misled?
College grads are highly motivated and ambitious, Arum says — but directionless. They don't know where they are going or how to get there. Recent waves of graduates are "drifting dreamers," using a term coined by sociologists Barbara Schneider and David Stevenson. They have big dreams, but little ability or knowledge of how to realize them.
But Arum doesn't place the blame only on the grads. Based on his research with Josipa Roksa, he concludes that American institutions of higher education are not rigorous enough and have "abandoned responsibility for shaping and developing the attitudes and dispositions necessary for adult success."
Just what are those attitudes and abilities? Character traits are seen as the most important factors, according to the Pew study. For example, six of 10 Americans say "a good work ethic" is extremely important. Teamwork and getting along with others is also important, cited by 57 percent. A college education itself was cited by fewer than half (42 percent) as a determinant of success.
What's your opinion? Are today's grads ambitious but aimless?
Are colleges and universities failing to teach the right stuff?
Or is Arum's indictment off base?
Dr. Wayne E. Baker is a sociologist on the faculty of the University of Michigan Ross School of Business. Baker blogs daily at Our Values and can be reached at ourvaluesproject@gmail.com or on Facebook.