Posted on
Mon, Mar 29, 2010 : 2 p.m.
If you fertilize, don't use phosphorus fertilizer ...
By Matthew Naud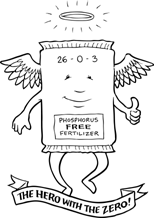 Be the hero with a zero
Take care of the river when you take care of your lawn this summer. If you fertilize this spring, summer, or fall, don't use phosphorus fertilizer. It's that simple. Your local lawn professional or local home and garden shop can provide you with no phosphorus solutions to your lawn care needs.
Why?
The city is under a federal mandate to reduce phosphorus levels in the Huron River by 50 percent in order to meet water quality standards. Cutting back on the unnecessary and even harmful applications of phosphorus-containing lawn fertilizer is an effective way to meet that federal requirement.
The practical reason to not use phosphorus fertilizer is that most soils in Ann Arbor have plenty of phosphorus to grow grass. We looked at about 1,000 soil samples and the turf experts at MSU said 85% of the samples don't need any more phosphorus to grow grass. The runoff from residential fertilizer is the primary source of phosphorous entering the Huron River. By limiting the unnecessary application of phosphorus to lawns by residents and commercial applicators, the city can reduce the amount of phosphorus in the river.
The scientific reason is that we have seen levels of phosphorus in the Huron River drop for the past two years. These are measurable and statistically significant changes. Visit www.a2gov.org/green for more information on the scientific studies showing phosphorus level drops.
The legal reason is that the City of Ann Arbor enacted an ordinance to reduce the amount of phosphorus used in manufactured lawn fertilizers, effective January 2007. You are not allowed to apply fertilizer with phosphorus unless you have a soil test that demonstrates that you need it.
Visit the city phosphorus website for links to the manufactured fertilizer ordinance and other information on phosphorus in our watershed.
Matthew Naud is the Environmental Coordinator for the city of Ann Arbor. He is a contributor to the Your World column. Visit www.a2gov.org/green for more information on environmental issues in the city. He can be reached at mnaud@a2gov.org.