Posted on
Tue, Feb 7, 2012 : 6:42 p.m.
Images of America: Do you still see a Melting Pot?
By Wayne Baker
Editor's note: This post is part of a series by Dr. Baker on Our Values about core American values. This week, Dr. Baker will discuss five images of America along with the melting pot metaphor. What image represents your vision of America?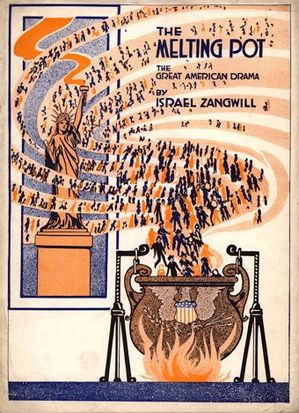 Before I ask about the image, at right, answer this: Did you watch the Super Bowl?
More than six of 10 (63 percent) of Americans said they planned to, according to a poll by Rasmussen Reports. Major sports events like the Super Bowl are thought to be cultural unifiers: a symbolic place and point in time when Americans gather and focus on the same thing.
Do you agree?

Is the Super Bowl a cultural unifier?

And, what about the image at right?

What's your first reaction?
This image portrays another, much earlier, form of cultural unification. It's a poster for "The Melting Pot," a play by Israel Zangwill that debuted to rave reviews in 1909. The drama borrows from Shakespeare's Romeo and Juliet, a tragedy about star-crossed lovers from two warring families.
Zangwill's play is set in New York City — a sort of West Side Story before its time — where the Romeo figure (named David in the play) is a Russian Jew who escaped an infamously brutal pogrom and the Juliet character (named Vera) is a Christian settlement worker, also a Russian immigrant. When "Romeo" learns that "Juliet's" father directed the very pogroms he escaped, they are torn apart. Unlike Shakespeare's tragedy, however, The Melting Pot has a happy American ending — the lovers reconcile.
The idea of a cultural smelting pot, crucible or melting pot can be traced back at least to the 18th century, but Zangwill's play popularized the idea of America as a place where differences were dissolved into a cultural whole. Here are some of the thoughts about this Melting Pot image from a small-group dialog I hosted yesterday.
Read the following responses — and share one of yours below …
This image seems "outdated" because we are more of a "spicy stew" now than a bland "cream soup." We embrace people who come from different places. Perhaps a better image now would be "many pots" rather than a single melting pot. Yet "we still have common values." "The drama now is how to maintain these values" and respect differences. "I grew up in the 50s and I miss those times — when we felt that we were a melting pot."
Is this our modern-day melting pot?
Take a close look at this image. What's your immediate reaction? What feelings does it evoke? What image of America does it represent to you?
This is a 2009 photo of the staff and students at the U.S. Navy's Center for Information Dominance Corry Station. This technical training center is located near Pensacola, Fla. The staff and students are participating in morning colors on Cultural Diversity Day, a time when they learned about cultures around the world.
Just like the poster of Israel Zangwill's The Melting Pot we examined above, this group photo represents a form of cultural mixing. Ever since 1948, when Harry Truman signed an executive order integrating the armed forces, the U.S. military has made great strikes in racial and ethnic integration, and more recently, the integration of men and women — as you can see in this modern image.
Here are some of the one-word reactions to this image that were evoked in the small-group dialog early this week: youth, patriotism, attention, idealism, naivety. A few veterans were participants in the dialog, and they had a strong patriotic reaction to the image.
Did you have a similar reaction to this image?

Is it a modern-day version of The Melting Pot?
Please add a comment below and "like" us on Facebook!
Originally published at www.OurValues.org, an online experiment in civil dialogue.
Dr. Wayne E. Baker is a sociologist on the faculty of the University of Michigan Ross School of Business. Baker blogs daily at Our Values and can be reached at ourvaluesproject@gmail.com or on Facebook.