Posted on
Fri, May 4, 2012 : 1:30 a.m.
Immigrants: Cinco celebration & failure to affirm humanity
By Wayne Baker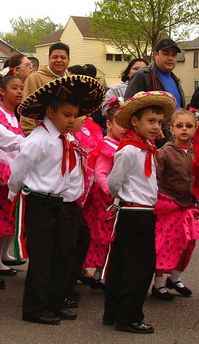 Photo courtesy Wikimedia Commons.
Editor's note: This post is part of a series by Dr. Baker on Our Values about core American values. This week Dr. Baker is discussing immigration.
Millions of Americans are preparing to celebrate Mexican heritage in Cinco de Mayo — even as our highest court contemplates an Arizona law that many Mexican-Americans regard as intolerable.
As Americans, our relations toward our neighbors from the south are decidedly mixed. A ReadTheSpirit column explains the history of this 150-year-old celebration. However, for millions of men and women, Cinco is a bit like a Mexican-American St. Patrick's Day — mainly a time to enjoy ethnic food, music, dancing and drinking. Even some Latino leaders chide their community for not paying more attention to the history.
However, this year, parties in the streets may be a welcome diversion from other anxieties, according to commentaries published in many predominantly Hispanic areas of the U.S.
Our Values has been exploring these crucial issues all week. (Jump back to Monday to review the whole five-part series, starting with news that Mexican immigration seems to have stalled.)
Meanwhile, history is also being made as the U.S. Supreme Court scrutinizes Arizona's tough immigration policies. It's hard to predict which way the court will go when it makes its ruling, but Supreme Court observer Linda Greenhouse found a common thread running through advocates and opponents of the law: "the failure of any participant in the argument, justice or advocate for either side, to affirm the simple humanity of Arizona's several hundred thousand undocumented residents."
Dr. Wayne E. Baker is a sociologist on the faculty of the University of Michigan Ross School of Business. Baker blogs daily at Our Values and can be reached at ourvaluesproject@gmail.com or on Facebook.