Posted on
Mon, Oct 11, 2010 : 10:33 a.m.
Inner-city kids climb to heights unknown, thanks to U-M grad and others
By Michael Niemi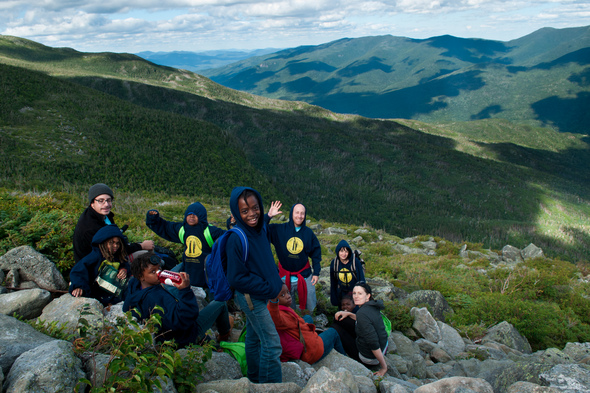 Courtesy photo
How did Davy Rothbart spend his summer vacation?
He made good on a promise and took 25 inner-city kids up a mountain.
Davy Rothbart is a creative tour de force, whether he is blowing the roof off the expectations for print media with his Found Magazine, chatting up David Letterman on national television -- not once but twice, or making a feature film based on his experiences as a delivery driver for Bell's Pizza. He's also published a collection of short stories, is a frequent contributor to public radio's "This American Life," and is finishing a collection of essays about growing up in Ann Arbor with a deaf mom.
But late last year, a tragic event propelled Rothbart to create a way to give back.
A Community High and University of Michigan grad who is now 35, Rothbart has always enjoyed camping and hiking in the wild, an affection he developed on trips with his parents as youngster and later as an adult living in the Northeast. One year, while hiking up Mt. Washington in New Hampshire, he got to thinking about friendships he had made with some kids in an inner-city Washington, D.C., neighborhood where he was living at the time.
"These are kids who had never been outside of the city, or even their neighborhood," says Rothbart. "I was thinking of how a trip like this might expand their horizons and help them appreciate nature in a new way beyond seeing it on TV or in books."
One 9-year-old boy from that D.C. neighborhood named Emmanuel Durant, Jr. really impressed Rothbart. "He was hanging around the basketball courts all the time. He had a big heart and a big smile, and I loved his sense of humor."
Rothbart developed an idea to make a film based on the young man, but just weeks into the project, it evolved into a documentary about Durant and his family themselves. After moving away, Rothbart stayed in contact with Durant and his family, stopping by for a visit whenever he was in the D.C. area.
Rothbart spent the 4th of July with them last year, celebrating Durant's recent high school graduation and meeting his fiancée. "He was proud of himself for finishing school because he had gone through some rough times in his younger years," Rothbart recalls. "And he was the first in his family to finish high school."
In the fall of last year, Durant decided to become a firefighter and landed a job at a fire department in Maryland. Things were going well for Durant, and Rothbart couldn't have been happier for him.
But tragedy struck late at night last December. Durant was shot and killed in a burglary attempt at the apartment where he was living. He was laid to rest this past January, on what would have been his 20th birthday.
Rothbart flew to Washington to be with the family and help them with funeral arrangements. Some footage from Rothbart's film project with Durant was used during the service. Set to music, it was a heart-wrenching reminder of how special this young man's life was and the deep way in which he touched people. In the days and weeks that followed, the family talked about the best way to honor Durant's's memory. Rothbart was reminded of the hiking trip up Mt. Washington he had thought about over the years, and when Rothbart mentioned the idea, the family decided that it was just the sort of tribute Durant would have wanted; Rothbart promised that he would make it happen.
"We decided to call the trip Washington-to-Washington and take a group of kids from D.C. to New Hampshire to climb the rugged, famous Mt. Washington," he says.
Rothbart chose this location because of the beauty and grandeur of the hike and the fact that while it is possible to climb to the 6,145-foot summit in one day, it is still a big deal to accomplish, especially for kids.
Rothbart enlisted the help of several friends, including Brandon Baugh, a fellow U-M alum. Baugh runs a mentoring program called Youth with a Purpose, and a group of five of his high-school students served as the counselors for the trip. A total of $18, 000 was raised, and L.L.Bean donated tents, sleeping bags, backpacks and other camping gear for the trip. "They completely outfitted our group," says Rothbart. Individual sponsors made up the lion's share of the funding for the trip.
The inaugural Washington-to-Washington trip took place in August. Twenty-five kids, ranging in age from three to 12, made the trip. Not all of the kids were able to climb the entire mountain, but a group of six kids, including two seven-year-olds, made the climb. "Everyone hiked at least part of the way up and they were thrilled with themselves," said Rothbart. At the summit, a small ceremony for Durant was held and flowers were placed on a marker for him. "It was a touching moment for all of us," said Rothbart.
Rothbart says the Washington-to-Washington trip was such a success that they have decided to make it an annual event. "We are also thinking about how we can do some things throughout the year with the kids, maybe a mentoring program," he said. He's really pleased that he was able to get the event off the ground, and feels it definitely had a positive impact on the kids.
"It was great to see these kids step outside their comfort zone and do something that they didn't necessarily think they could accomplish. I think they'll remember this for a long time."
And the toughest part of the adventure? "The kids' questions," says Rothbart. "They wanted to know how rocks were born."
For more information and pictures from the trip, visit the website at www.washingtontowashington.org. Michael Niemi is a freelance writer from Ann Arbor.