Posted on
Wed, Dec 21, 2011 : 6 p.m.
Iraq: Did the war succeed? Now that we're gone, will Iraq go up in smoke?
By Wayne Baker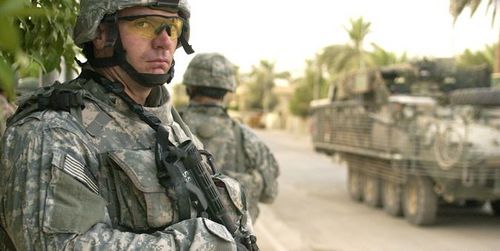 Department of Defense photo by Spc. Elisha Dawkins, U.S. Army, released into public domain.
Editor's note: This post is part of a series by Dr. Baker on Our Values about core American values. The troops have pulled out of Iraq, and this week, Dr. Baker is discussing whether or not the benefits outweighed the costs.
Do you think the United States achieved its goals in Iraq?
And if so, was it worth the human and financial costs?
The answer to both questions is yes, according to Defense Secretary Leon Panetta.
"There is no question that the United States was divided going into that war," he said in a press briefing four days ago, "but I think the United States is united coming out of that war. We all recognize the tremendous price that has been paid in lives, in blood. And yet I think we also recognize that those lives were not lost in vain."
One result, he said, is an independent and sovereign Iraq, a country that can now govern and secure itself. "I think the price has been worth it," Panetta said, "to establish a stable government in a very important region of the world."
Many Americans are not so sure. Just over half (56 percent) say we mostly succeeded in achieving our goals, according to a poll last month by the Pew Research Center. About two thirds of Republicans (68 percent) say we mostly succeeded, compared to 56 percent of Democrats.
Only a minority of Americans (41 percent) say the removal of Saddam Hussein from power was worth the human and financial cost of the war, according to a CBS News Poll. And, only a third (33 percent) of Americans say the benefits of the Iraq war were worth the costs of fighting it, finds an ABC News/Washington Post poll.
Do you agree with Panetta's assessment that we achieved our goals?

Was ousting Saddam Hussein from power worth the cost?

Do the benefits of the Iraq War outweigh the costs?

Now that we're gone, will Iraq go up in smoke?
With the withdrawal of American troops from Iraq, what's next for this Middle Eastern country? The National Journal posed this question to several experts, and some of their predictions are dire: sectarian violence and civil war lay ahead for Iraq. At best, we can hope for stability, but not democracy — at least not in the sense we know it.
Do you agree with the experts?
A majority of the American people do, according to a recent NBC News/Wall Street Journal poll. Six of 10 Americans say that an "all-out civil war" in Iraq is very or somewhat likely. A majority (52 percent) believe that it is somewhat or very unlikely that the country will become more settled and less violent. And, a majority of Americans (60 percent) say it's unlikely that Iraq will achieve a stable democracy.
What will happen here? Will there more terrorist attempts on U.S. soil as a result of pulling our troops out of Iraq? Almost half (47 percent) of Americans say this is at least somewhat likely. A majority (52 percent) say this is unlikely to occur.
The experts didn't offer an opinion on the question of more or less terrorism, but one did offer an opinion of what is likely to happen here in the U.S.: nothing. We'll probably forget what happened and the lessons it could have provided us.
Do you agree with these experts?

What do you think is next for Iraq?

Will learn lessons from Iraq, or forget what happened?

Please add a comment below...

AND, Connect with other OurValues readers via Facebook!
Originally published at www.OurValues.org, an online experiment in civil dialogue on American values.
Dr. Wayne E. Baker is a sociologist on the faculty of the University of Michigan Ross School of Business. Baker blogs daily at Our Values and can be reached at ourvaluesproject@gmail.com or on Facebook.