Posted on
Fri, Oct 8, 2010 : 6 a.m.
'Living Dreams' recalls youth during the 80s; play to premiere to Saturday
By Frances Kai-Hwa Wang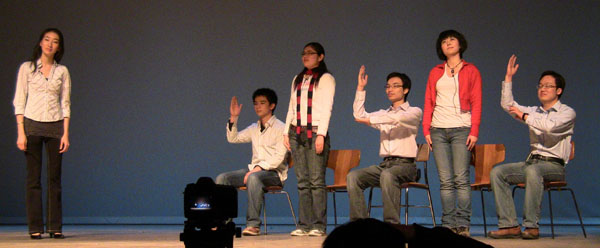 Recalling their elementary school classroom in China at a spring UM Chinese Student Drama Club Zhen Shi Yin performance: from left to right: Siyi Fang, Lang Ming, Shiyao Guan, Jingyuan Chen, Yueyang Zhong, Beimin Zhu | photo courtesy of UM Chinese Student Drama Club
A set of two plays, together called "
Living Dreams: Memories of the 1980s Generation
," will premiere 7 p.m. Saturday, October 9 at
Stamps Auditorium in the Walgreen Drama Center
on the University of Michigan North Campus. Entirely written, directed and acted by students in the University of Michigan Chinese Student Drama Club,
Zhen Shi Yin
, the plays recall the youth and education of this generation of students born in China during the 1980s.
The first play is performed in English and tells, with humor, about the culture in which these students grew up, went to school and began dating. It is a light and easy cultural exchange with singing and dancing and martial arts and hopes to introduce American audiences to the students' background so that both groups will better understand each other as they study and work together now.
The second play is performed in Mandarin Chinese with English subtitles and engages more sentimentally in the memories and longings and identities of these students recalling their favorite music, books, school traditions and pop culture while growing up in China before setting off for study in America. Again, the hope is cultural exchange, to recall and share the details of youth, including fun things like radio gymnastics.
The University of Michigan Chinese Student Drama Club, Zhen Shi Yin, was formed a year ago and previously performed at the annual lunar new year's celebration of the University of Michigan Chinese Students and Scholars Association. The online video of their most recent performance has already received more than one million views worldwide. Most of the students are not theater majors, but graduate students in various disciplines, including math, statistics and economics. The club has about 200 regular members and 30 active members, 20 of whom appear in the performance.
The plays are sponsored and produced by the University of Michigan Confucius Institute which writes:
"Join us for a riveting comedy-drama written, directed and performed by a group of U-M Chinese students passionate about theatrical arts. Originally conceived as a series of skits, "Living Dreams" tells a complex story about longing, memory and identity, with captivating music and imagery. Put aside your preconceived notions about China and allow yourself to become transported into the vivid lives of the 1980s generation — young people who are your friends, your classmates, even your GSIs."
The plays are free and open to the public. Stamps Auditorium in the Walgreen Drama Center at U of M North Campus is located at 1226 Murfin Ave., Ann Arbor, MI. Doors will be held for late arrivals if the U-M-MSU game goes into overtime.
Frances Kai-Hwa Wang is a second-generation Chinese American from California who now divides her time between Ann Arbor and the Big Island of Hawaii. She is editor of IMDiversity.com Asian American Village, lead multicultural contributor for AnnArbor.com, and a contributor for New America Media's Ethnoblog. She is a popular speaker on Asian Pacific American and multicultural issues. Check out her website at franceskaihwawang.com, her blog at franceskaihwawang.blogspot.com, and she can be reached at fkwang888@gmail.com.