Posted on
Mon, Nov 2, 2009 : 7:20 a.m.
Monday mystery artifact
By Laura Bien
Last week's Mystery Artifact was quite a pressing problem!
Then yours truly added a wrinkle by saying you had to specify the fuel. Some respondents pleated for mercy, others got steamed, perhaps even a bit hot under the collar--but one person had the problem ironed out.
This is a kerosene iron, donated to the Ypsilanti Historical Museum in the 1960s.
Old irons took a wide range of forms and used many different fuels. Some early irons had a chamber for hot coals--convenient for spreading soot across your laboriously hand-washed clothes. Later model irons burned alcohol, kerosene, natural gas, or gasoline. Oddly enough, the handy household Molotov cocktail that was the gasoline iron was not judged useful enough, by our predecessors, to last until the present day--there's a real head-scratcher.
Erksnerks answered in first with "heavy steam iron," and when urged to specify what the globe is for, answered, "petrol, mentholated spirits, kerosene, acetylene and or for that matter natural gas." A2dancelady contributed a very logical guess of "boiling water in the globe," which would be ideal for making steam. Eanschuetz mentioned the very intriguing "whale oil iron," and finally nailed it with "My guess is that this was a kerosene model."
One reader inquired, concerning the old, solid-metal, stove-heated irons, "why are they called "sad irons?" The answer is not due to the emotions generated by the sight of a huge, sopping pile of ironing on a Monday morning, but is due to language! One shiny bonus point will be awarded anyone who can explain this term.
This week's Mystery Artifact is vaguely related, in function, to our kerosene iron. The photos below show the front and the back of this approximately 13 by 8-inch fabric-covered item. There are two little metal drawers on the triangular left and right sides.Take your best guess and good luck!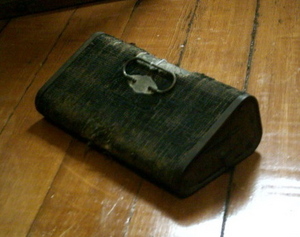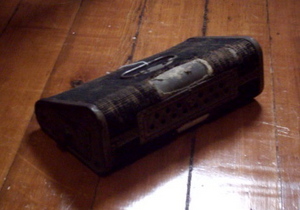 WINNER'S LIST: 8/3/09: erksnerks 8/10/09: Larissa 8/17/09: no winner 8/24/09: erksnerks, (2) 8/31/09: erksnerks, (3); Larissa, (2) 9/7/09: no winner; honorable mention to goblue18 9/14/09: erksnerks (4), Larissa (3), Janice A., Edward V. 9/21/09: a2dancelady, Mark Maynard, Creative Use of an Orangutan award to Lisa Bashert 9/28/09: erksnerks (5), Lisa Bashert (1.5), suem, Cindy Heflin, 10/5/09: Lisa Bashert (2.5), cmadler; Obscure Edible Plant Historical Factoid award to Ed Vielmetti 10/12/09: no winner 10/19/09: erksnerks (6) 10/26/09: a2dancelady (2), Typha, and, oh heck, Larissa (4) too. 11/2/09: eanschuetz, honorable mention to erksnerks (5.5)
Laura Bien is the author of "Stud Bunnies and the Underwear Club: Tales from the Ypsilanti Archives," to be published this winter. She also writes the historical blog "Dusty Diary" and may be contacted at ypsidixit@gmail.com.
"Monday mystery artifact" is published every Monday on AnnArbor.com.