Posted on
Tue, Oct 19, 2010 : 8:15 a.m.
Natural Area Preservation celebrates its volunteers with potluck
By Jason Frenzel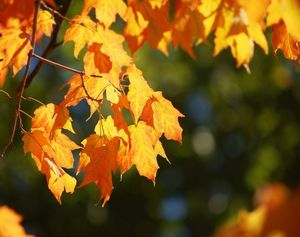 Photo courtesy of Pierre Wickramarachi
Autumn is here and it is time for brilliant leaves, frosty mornings, and crisp apples from the farmer's market. It is also time for the Natural Area Preservation's annual volunteer appreciation potluck! Each year, NAP works with hundreds of local residents in the natural areas of Ann Arbor's parks. Together with these many helping hands we pull garlic mustard; cut invasive shrubs; conduct controlled burns; count birds, frogs and salamanders; make photo records of our progress; and maintain many miles of trails. Each year, the NAP potluck is a time to reflect on what we have accomplished and thank the many volunteers who made it possible.
NAP's mission is a dual one. Every day staff work in the woodlands and prairies of Ann Arbor to create and restore healthy, diverse ecosystems. And every day we provide information to the public about ecological restoration and recruit volunteer help. Conservationists know that in order to maintain the natural environment, people in urban areas must be involved. Without the financial, political, philosophical, and volunteer support of many people, programs to care for the environment will fail. Conservationists also know that when people get involved with caring for nature, they also benefit themselves.
When I started growing native plants, I did it for the environment. Native plants are better for the insects and birds. After having been involved for a few years, however, I have experienced as much benefit to myself. Encouraging native plants to grow in my backyard and local parks brought a new perspective on nature.
Seeing the environment as something to impose landscaping on has been replaced by looking at nature; understanding what would naturally grow there; and watching which bugs, birds, and creatures come after the plants are in place. Now when I look at a manicured lawn it looks sterile and lifeless. When I look at a native planting I see the wonderful richness of plant and animal life, and feel good about my part in helping it be there.
NAP has accomplished much due to the support and assistance of hundreds of local residents. We look forward to the annual potluck as a time to review what we have all done together, and to thank the people who make the work possible. This event takes place at 6:30 p.m. Oct. 26 at Cobblestone Farm and is open to the public. Use the contact information below for more information about the potluck and join us. Maybe you are a future NAP volunteer!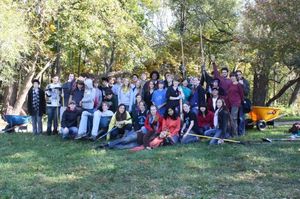 Photo courtesy of NAP staff
Nancy T. L. Stoll is Outreach Assistant for Natural Area Preservation, with the City of Ann Arbor. She can be reached at nap@a2gov.org or (734) 794-6627. Visit www.a2gov.org/NAP for more information about native plants, city natural areas, and volunteering in city parks.
Your World provides local environmental information to our community. Contributing partners include: Washtenaw County's Environmental Health Division; the nonprofit Recycle Ann Arbor; the City of Ann Arbor's Public Services Area, Natural Area Preservation, Systems Planning programs for Energy, Environmental Coordination, Solid Waste, Transportation, and Water Resources.