Posted on
Thu, Oct 6, 2011 : 5:58 a.m.
On iPhones and love: How deep is your smartphone obsession?
By Jen Eyer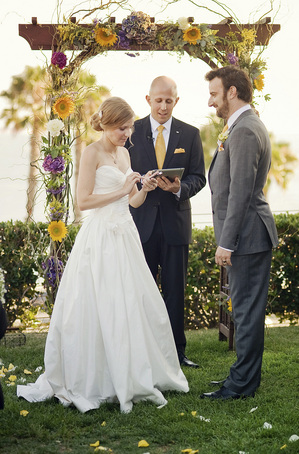 AP Photo/Luminaire Images Photography, Molly Yarchin
The headline caught my attention: "
You Love Your iPhone. Literally
."
It was a column in the New York Times a few days ago about a new study finding that iPhones activated parts of the brain normally associated with feelings of love and compassion. Subjects weren't just addicted; they loved their iPhones, the author said.
It ended with advice to "Shut off your iPhone, order some good Champagne and find love and compassion the old-fashioned way."
Ha, I thought, remembering two friends of mine recently talking about how they both sleep with their iPhones — in bed, on the pillows next to them.
For a minute I felt really smug about my relationship with my Android. I mean, I have it with me constantly during the day, and it recently took up nighttime residence on my bedside table. But at least it's not in bed with me. So clearly I don't love my smartphone like those silly iPhone users.
Except… then I remembered a night last week, when I was forced to do exactly what the writer advised. My husband and I had arranged our first date in oh, about two months. As he dropped me off at the restaurant door and drove away to park the car, my stomach dropped.
I had left my phone at home on the charger.
After thinking a few choice words, I quickly started to formulate a plan. Here was my approximate thought process:
I'll call my husband and ask him to run back home. No, I can't call without a phone.
OK, once he gets here, I'll use his phone to call the sitter, and ask her to bring it to me. No, that's ridiculous to have her pack up the kids and come downtown just to bring me my phone.
So, I'll call the sitter, and ask her to keep an eye on my phone to see if I get any texts or chats. No, that would be weird.
Maybe I could just check my email on my husband's phone. But no one emails me with urgent messages.
As I sat waiting for him, I felt jittery. I longed to be able to whip out my phone and make the rounds.
When he walked in, sat down and pulled out his own Droid, I felt a stab of jealousy. My eyes flicked to it, looking for the telltale flashing green dot — today's version of "You've got mail," or a text, or a chat, or a Facebook message, or a Twitter mention…
There was no flashing light, but he quickly went about checking in to the restaurant on Facebook, while I tapped my foot.
I told him I had forgotten my phone. He looked at me with unmasked glee.
"So I guess I'll have your full attention tonight," he said. I made a face, but he didn't notice because he'd gotten a reply to his check-in.
Despite my initial uneasiness, I forgot about my missing phone quickly enough, and relaxed into an easy dinner conversation.
But later in the evening he excused himself to visit the men's room. As he left, he took his phone.
"Why don't you leave it here"? I asked, feeling a sudden desire to check the latest headlines, at least. He laughed and walked away.
When we got home, after paying the sitter and checking on the kids, I went directly to my phone. OK, OK, I didn't even check on the kids first.
I had a couple of missed calls, a couple of texts and a gchat, and I texted them all back immediately. All were for different reasons, and all evoked a different feeling.
Looking back on this, something struck me that should be very obvious, where the column got it wrong. Several scientists have harshly criticized the study for misinterpreting the data, but I think even if the data was right, the conclusion was faulty.
It's not the device, but the people behind the communication the device facilitates that evoke those warm, connected feelings.
I'm reminded of growing up, how much my mom clearly looked forward to getting the mail every day. I teased her occasionally about her obsession, because she usually just got bills and junk. But I knew it was the occasional letter that fueled her interest.
It never occurred to me that she might be in love with the mailbox.
The relationship to our smartphones is similar, but amped up by the volume of communication we receive. By repeatedly connecting with people we care about through our phones, I think we do develop an affinity for them in classic Pavlov style. But take away those personal experiences, and I would love my cherished Droid about as much as I love a calculator.
Jen Eyer is director of audience engagement for AnnArbor.com. Make her green light flash at jeneyer@annarbor.com or (734) 623-2577.