Posted on
Tue, Nov 15, 2011 : 5:58 a.m.
Love at first buck: Michigan hunter reflects on his first time in the woods
By Rick Taylor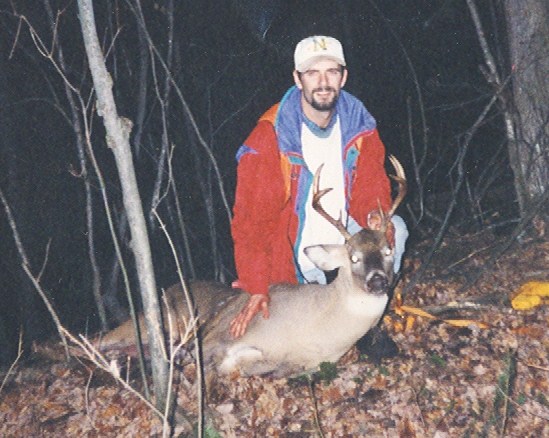 all photos courtesy of the Taylor family
I was on my way home from a business class while attending Northern Michigan University; the year was 1994. A blizzard had engulfed Marquette, and I was fighting the winter winds all the way back to my house that I shared with four other students.
I couldn't prevent the snow from going down the back of my neck no matter how hard I leaned forward. Finally, I'm at my front door and shove myself into the house. I shake the snow off my gloves and coat and begin to dress down from an all-too-familiar weather pattern in the Upper Peninsula.
One of my roommates was in the kitchen while the other guys are watching ESPN. My nose picked up the savory smells of garlic, mushrooms, butter and some meat; it smelled delicious, especially on a cold day like that today.
"What are you cooking Chris?" I asked. Chris looked over his shoulder and yelled, "I've got some venison back straps buddy"
"What's venison?" I asked and the room fell eerily quiet. Everyone stopped talking and snapped their heads in my direction as if I just insulted the Mother Theresa.
"What's venison? You're kidding, right?" they asked. I looked at them and truly had no idea what they were talking about.
"Venison is deer meat, you dummy," said Chris.
I couldn't believe these guys would eat any wild animal. I knew I wasn't going to do that.
"Come over here Rick and give it a try," said Chris.
"No way, that's disgusting," I said. But, Chris got his way, and I reluctantly tried the deer meat for the very first time.
Wow! That was delicious, and the guys all laughed it up and welcomed me to eating wild game. My life changed forever that day, and I've never thanked Chris Bjork properly.
It's important you all know that I come from a family who doesn't hunt. I'd say that our family might be considered anti-hunters, to be more specific. You see, I wasn't born into the hunting world, and I certainly didn't know anything about archery or firearms. It's taken me years to become proficient, and learning is half the fun.
I found myself in the woods with a borrowed shotgun two weeks after my first taste of venison. I had no previous experience, but I enjoyed the taste of venison so much that I thought I'd try hunting. I had a Columbia ski jacket on and a plastic orange vest. I looked like a first-time deer hunter, but luck was on my side that day.
I shot an eight-point buck my first time out and have enjoyed opening day of the Michigan firearm season since 1994.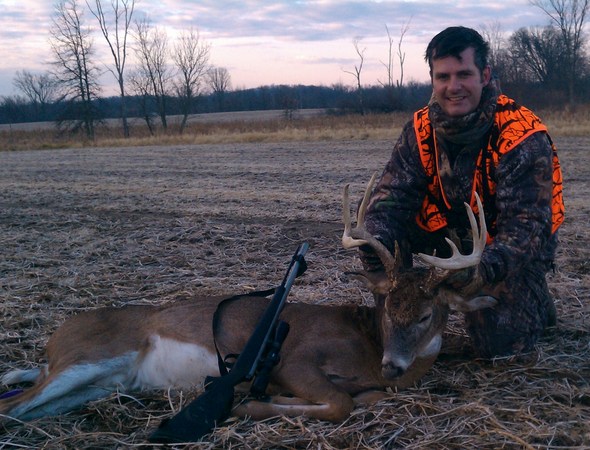 There are more than 700,000 hunters in Michigan, ranking in the top-three hunting states every year. The state has even taken first place as having the most hunters in the country from time to time.
$1.3 billion dollars was spent last year on hunting alone in Michigan. That amount triples when you include fishing. Let's face it: there are a lot of hunters in our beautiful state. Believe it or not, there are a lot of hunters who reside in Ann Arbor as well. I get a lot of emails from people who live in Ann Arbor who hunt and like this column.
I love hunting and yearn for the day when my kids and I can deer hunt together. I know I'll catch heat from some people out there, but there's an undeniable allure to hunting in this great state. Millions of people hunt in the U.S. and Canada, so it can't be all that bad; I'm just saying….
Nov. 15 marks the opening day of firearm season in Michigan. So, be careful out there today. Shoot straight. Send me your photos, and the best picture and/or story will be featured in my column.
UPDATE: Rick sent in this photo of opening morning.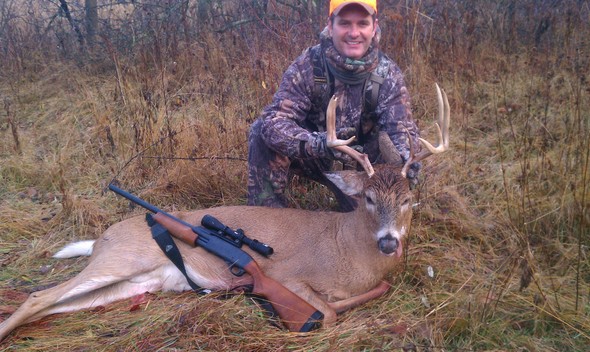 Rick Taylor | Contributor
Rick Taylor can be reached at 734-223-5656 or by email at rtaylor@reinhartrealtors.com.