Posted on
Wed, Mar 9, 2011 : 11:29 a.m.
Our Values: Is the attack on public unions aimed at working class, women?
By Wayne Baker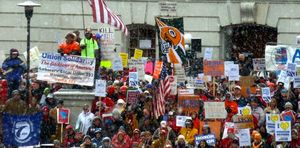 Photo courtesy of Read the Spirit
Editor's note: This post is part of a series by Dr. Baker on Our Values about core American values. This week Dr. Baker is discussing the controversial anti-union frenzy spreading across the country.
Last Friday, Wisconsin Gov. Scott Walker informed the state's public unions of impending layoff notices to state employees. This action is the latest in a three-week battle over the budget and the role of public unions. During this time, we've seen some extraordinary events, such as the mass exodus of the Badger State's Democratic representatives, who fled to prevent a vote on Walker's measure.
The bill in question would require schoolteachers, nurses, administrative assistants, secretaries and other public employees to pay more for their pensions and health care insurance. Walker also wants to strip public employees (except police and firefighters) of their collective-bargaining rights. The occupations most affected by Republican union busting (or, depending on your view, budget balancing) are those disproportionately held by women.
Of course, most people don't work under the protection of unions. Only about 12 percent of American salary and wage earners are members of unions, according to the Bureau of Labor Statistics. But of these, women make up a significant percentage.
Women are 61 percent of public sector employment at this level, according to data from the Institute for Women's Policy Research and the Bureau of Labor Statistics. Just over half (52 percent) of public sector employees at the state level are women.
Joanne Bamberger of Politics Daily writes, "I don't want to see a conspiracy where there isn't one, but as some politicians push to cut reproductive and economic rights for women, it's hard not to view other efforts that would disproportionately impact women through that same lens of attack. So when labor statistics suggest that moves to weaken unions at the state and local level would impact women more than men, it's tough not to judge Gov. Scott Walker's (R-Wis.) apparent union-busting crusade as anything other than the latest swipe at American women."
Walker and his fellow Republicans claim their goal is to get the budget under control. Like many states, Wisconsin faces a huge deficit. Critics say the budget is just an excuse to do something Republicans have always wanted to do: Bust the unions.
For example, here's what John Colson, a writer for The Aspen Times, had to say: Walker "could balance his budget by not promising lavish corporate incentives for companies to come and pillage Wisconsin's natural resources, or by raising the taxes those corporations pay, or any number of other fiscal moves. But killing unions is part of his game strategy, which includes keeping the working class on the edge of ruin at all times."
Colson has a point. After all, the public unions agreed to shoulder more of the financial burden, accepting pay cuts and agreeing to pay more for insurance and pensions. But Walker wouldn't go along. Gutting the unions' collective bargaining rights is essential to his plan.
Where do you stand on this issue?
Do you approve or disapprove of what Walker and his fellow Republicans are trying to do?
Is Walker's drive to weaken unions aimed at the working class? Is it an attack on women?
Dr. Wayne E. Baker is a sociologist on the faculty of the University of Michigan Ross School of Business. Baker blogs daily at Our Values and can be reached at ourvaluesproject@gmail.com.