Posted on
Sun, Apr 10, 2011 : 11:19 a.m.
The dilemma of nuclear energy - how do we balance safety and power use?
By Wayne Baker
Editor's note: This post is part of a series by Dr. Baker on Our Values about core American values. This past week, Dr. Baker asked questions about alternative energy sources.
On a clear day in Chicago, from the right vantage point, one can spy the Cook nuclear plant on Lake Michigan's eastern shoreline. It sits on a tract of land that is "part of the world's largest formation of freshwater dunes," according to the plant's website.
I used to see the plant when I lived in Chicago, and now I live in the state where it's located. The reactors at the Cook plant are almost as old as the ones at Fukushima, the Japanese plant damaged in the earthquake and tsunami.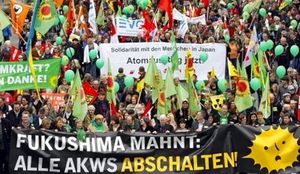 Photo courtesy of Wikimedia Commons
Should I be worried?
The majority of Americans (58 percent) are not worried about a nuclear disaster in the U.S., according to a recent Gallup poll. One-third of the country is worried.
Even though most Americans were more concerned about nuclear safety right after news of the Japan disaster, it's noteworthy that most are not worried about a nuclear disaster here. And, Gallup finds, attitudes about the safety of nuclear power are not different now from 10 years ago.
Environmentalist George Monbiot would applaud the American majority who believe that nuclear power is safe. In a startling turnabout, Monbiot now supports nuclear energy because the results of the worst-case scenario — what actually happened in Japan — are much less than anti-nukes predicted. He also says that key figures in the anti-nuke movement have misread, misunderstand or even misrepresented the dangers of nuclear radiation.
Yet since the disaster at Fukushima, six of 10 Germans say they are willing to sacrifice their lifestyle if it meant we could end the use of nuclear energy, based on a new poll. A majority (57 percent) say they want Germany to close all nuclear power plants in less than five years. Is a nuclear-free Germany a model of our future?
Along with a change in lifestyle, Germany plans to shift to 50 percent renewable energy by 2050. That's an ambitious goal, and even if it's attained, where would the other half come from? Natural gas is one source, but coal is another — and coal is the real enemy, says Monbiot. The human and ecological costs are far greater than the risks of nuclear energy, he argues.
Germany's neighbor — the Czech Republic — is delighted with Germany's plans to cut nuclear, looking to profit by selling them energy from coal-fired plants. Czech companies don't face pressure to close their nuclear plants, and politicians are in favor of increasing the use of coal as an energy source, according to business reports.
This all goes to show that the German model illustrates the limits of a nation-specific energy policy. One nation bans nuclear energy and its citizens are willing to take a hit to their lifestyle. Another nation invests in nuclear and coal-fired energy. It's the same thing when you decide to not use pesticides on your lawn, but your neighbor asks for a double dose.
The energy dilemma we've discussed all week goes beyond national boundaries. It requires a multinational policy. And that takes a level of cooperation that we have not seen before.
What do you think of Germany's model?
Is it a model that you could support?
Or is it futile given that other nations will do the opposite?
Dr. Wayne E. Baker is a sociologist on the faculty of the University of Michigan Ross School of Business. Baker blogs daily at Our Values and can be reached at ourvaluesproject@gmail.com.