Posted on
Wed, Nov 30, 2011 : 3:18 p.m.
Overspent? Should we blame Pogo, plastic, or the Prosperity Gospel?
By Wayne Baker

Image in public domain via Wikimedia Commons.
Editor's note: This post is part of a series by Dr. Baker on Our Values about core American values. In light of Cyber-Monday, Dr. Baker is discussing America's consumer culture and our tendencies to overspend.
Who's the enemy in our culture of consumption? "We have met the enemy and he is us," said Pogo, the anthropomorphic character in the long-running American comic strip.
It's easy to blame the American consumer for the culture of consumption. But there are many and subtle enticements that make it ohhh so easy to overspend. The much-heralded Cyber-Monday (which we discussed Monday) is only one, an unofficial day of purchase frenzy that makes people wonder if they've missed some great deals by not participating.
But it's plastic, not Pogo, who is the real enemy. Plastic refers to our ubiquitous credit cards. I'm as guilty as the next, thinking of my credit card as not the equivalent as cash. Paying with a credit card puts the pain of paying off into the future, and the future, everyone knows, is uncertain.
How we pay affects what we purchase, says James Roberts, author of Shiny Objects: Why We Spend Money We Don't Have in Search of Happiness We Can't Buy. Think about that for a minute: How we pay — the method we use to pay — influences our behavior as consumers. Paying with cash or check is painful because we feel the cost of a purchase immediately. Credit cards are at the other end of the pain scale.
As Roberts said to me in an email, "Credit cards greatly minimize the pain of paying, making it considerably more likely that we will buy something. Why is this? First, as humans we tend to discount future events. Making a payment on the credit card in 30 days is seen as no big deal at the time. Second, with credit cards, we aren't required to write down the amount of the purchase (unlike cash which must be counted or checks). We call this a lack of rehearsal. Both of these aspects of credit card use lead us to over-estimate the amount of money we have available which leads to a greater likelihood of spending what we don't have."
Have you overspent?

Do credit cards make it too easy?

Or, is the culture of consumption to blame?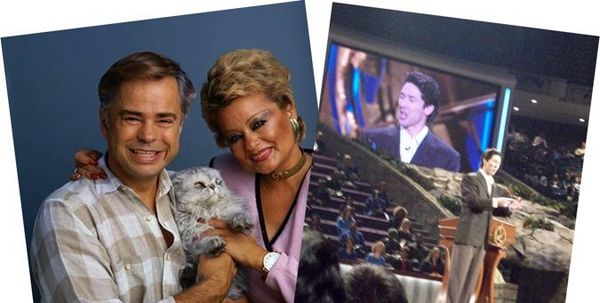 Photos in public domain, courtesy Wikimedia Commons.
Is the Prosperity Gospel to blame?
Does God want you to flourish financially? He does, according to the "prosperity gospel" movement. This gospel "preaches that an authentic religious belief and behavior, usually in the form of tithes and other monetary donations, will result in material prosperity," says James Roberts in Shiny Objects, a new book that I introduced on Monday.
"Conversely, the gospel contends that financial prosperity and success in your private and professional lives is evidence of God's favor."
At first, this sounds like a remake of the Protestant Ethic: Worldly success is a sign of salvation. But what Roberts is talking about is much, much more. The prosperity gospel promises that donating money to the church will result in financial success far above the amounts donated. Conspicuous consumption is also a part of the equation, and clergy who preach the prosperity gospel — often leaders of megachurches — tend to live large.
How common is faith in the prosperity gospel? More than 60 percent of Christians agree that "God wants people to be financially prosperous," according to a Time magazine survey Roberts cites. By the late 1980s, one famous wave of prosperity preachers — including James Bakker and Jimmy Swaggart — was largely discredited. But this style of preaching is so popular that many others have taken up the doctrine. The most popular prosperity preacher today is the best-selling author and TV personality Joel Osteen, who also runs his own huge church in Houston.
No question, it's a popular message that isn't going away. But here's the problem: Faith in the prosperity gospel can easily lead to overspending, bolstered by the belief that wealth is sure to come. It may also have been a cause of the collapse of the subprime mortgage market, according to a study by Jonathan Walton, a professor of religion. As Roberts summarizes, many prosperity gospel adherents believed that God caused lenders to overlook their poor credit, bad debts and insufficient income, making them fair game for unscrupulous lending practices.
What do you think of the prosperity gospel?

Do you think its influence has a broad impact on our consumer culture?

Please add a comment below...

AND, Connect with other OurValues readers via Facebook!
Originally published at www.OurValues.org, an online experiment in civil dialogue on American values.
Dr. Wayne E. Baker is a sociologist on the faculty of the University of Michigan Ross School of Business. Baker blogs daily at Our Values and can be reached at ourvaluesproject@gmail.com or on Facebook.