Posted on
Mon, Nov 12, 2012 : 10:24 a.m.
Passing the torch: My son gets his first buck
By Rick Taylor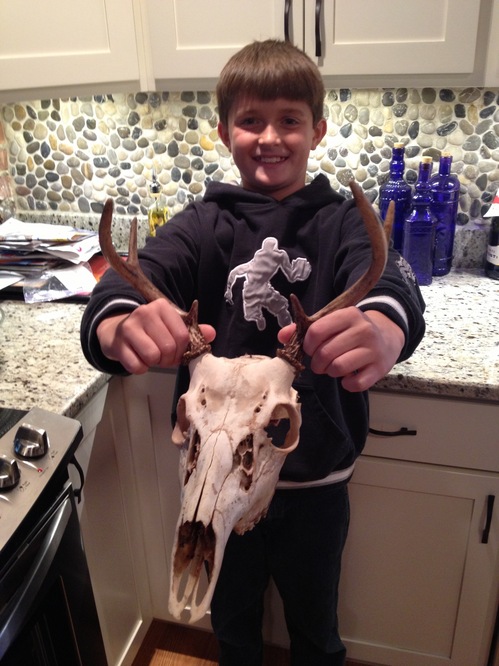 I'll never forget the first time I took my son Ricky
deer hunting
with me. He was 2 years old, and I was bow hunting in an elevated platform that was more of a tree house than a tree stand. Two bucks came into view, and I grunted at them in from more than 100 yards. One of these bucks was about to meet his maker when Ricky peered out the window, pointed enthusiastically and screamed, "Deer! Deer, Daddy!"
Of course those bucks hightailed it out of there, and all I could do was laugh. Nine years later, Ricky has witnessed me take dozens of deer with the bow, muzzleloader and shotgun. Ricky has also been by my side twice when I've shot record book turkeys with the longbow. Ricky even
shot his first turkey
last year with a 20 gauge shotgun; he dropped it in its tracks.
I recently wrote about the internal struggle that every parent grapples with. Is Ricky emotionally ready to hunt? Does he truly understand what he's doing in taking the life of another living creature?"
I also wrote that Ricky has seen what happens after the deer is killed. He's seen the gutting, skinning and butchering of wild animals. He's also seen and looked forward to the end result on the dinner plate.
Is Ricky ready to hunt, I ask myself? Yes, he is.
I took Ricky to the archery range with a crossbow, and Ricky did a masterful job of putting the bolts (crossbow arrows) in the bullseyes at varying distances up to 40 yards away.
I had a double-seated ladder stand waiting for Ricky and I, but we had to wait for a west wind to present itself.
I kept a close eye on the weather reports and finally saw our opportunity to make it out. Ricky ran home from school last Thursday, and I had his hunting clothes waiting for him. He quickly changed into his insulated hunting clothes, and we were out the door heading to a great hunting spot.
We quickly made it to our spot and tied off our safety harnesses to the tree. We only had two hours of hunting light, but the rut was in full swing and I anticipated a great evening. I had high hopes for Ricky, but I just wanted him to be content in his decision to shoot or not to shoot. I can honestly say this night was not about me; it was all about my little boy who isn't so little anymore.
I was videotaping a beautiful woodpecker near our stand when I caught movement in the distance. I used the telephoto of the camcorder to determine this was a six-point buck, and Ricky said he wanted to try for this deer.
The buck came into 23 yards and stood behind a tree eating on corn we had thrown down a few days before. This gave Ricky time to slowly move his body into position and get comfortable should a shot opportunity arise.
The buck started to walk a bit forward and turn broadside. I asked Ricky if he was "rock solid" and he said yes. I peeked away from the viewfinder of the camcorder and looked over at Ricky. He did indeed look ready and I began to focus on the deer once again.
"Okay, Ricky, are you rock solid?" I asked again. "Yes," he said. "Then take him when you're ready," I told him. Moments later I heard the unmistakable sound of the crossbow going off followed by the bolt disappearing into the buck's chest cavity.
"Great shot!" I instinctively exclaimed. We watched the buck run off behind thick brush and waited.
And just like that, Ricky had taken his very first deer. I can't begin to tell you how proud I was of his shot, it was truly a shot that I any hunter could be proud of.
I told Ricky how proud I was of his accomplishments and we quietly talked about the hunt.
Suddenly, I heard the sounds of deer coming into view and a huge buck came into view. I've got pictures of this monster eight-point on my trail camera, but nothing compares to seeing him in person. Ricky and I marveled at the sheer size of this brute while he chased a doe just 35 yards in front of us.
We could see the buck hanging out about 60 yards for almost an hour, and we didn't dare get down and potentially spook it.
We finally got down when the coast was clear and found Ricky's bolt; a clean pass through shot.
We followed the blood trail for about 70 yards, but we soon lost it. I looked around in a grid pattern but still couldn't pick it up again. Thankfully, the weather was going to dip around freezing overnight, and I knew I could find this deer early in the morning. It was a school night, and I had to get Ricky home for homework and dinner.
I found my hat on an overhanging branch from the night before which showed last blood. I soon found the buck and was relieved that Ricky wouldn't have to worry about not finding his deer.
I look back on the little boy shouting out "Deer, Daddy!" all those years ago, and I can't help but go back in time. Sure, he's going to be his own man soon but I'll always remember him as the cute little kid God blessed me with all those years ago. I'll have new stories coming as we enter the firearm season. I'll be heading up north as I've been invited to my first "Deer Camp" experience. Hopefully, I'll have some stories to share.
Rick Taylor warmly welcomes your comments and story ideas. He can be reached at 734-223-5656 or by email at rtaylor@reinhartrealtors.com.