OUR VALUES
COLUMN:

Pew says we're NOT red v. blue - Pick your new political label!

Posted on Wed, May 11, 2011 : 2:30 a.m.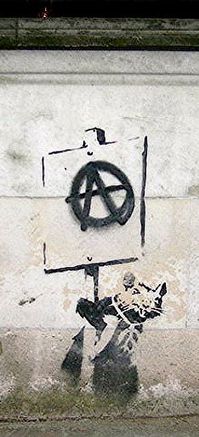 Would you call the graffiti artist Banksy an independent? It's fascinating to look over this array of issues and values and think about where we fall — and where various famous people fall — in these new political labels.
Photo courtesy of Wikimedia Commons
Editor's note: This post is part of a series by Dr. Baker on Our Values about core American values. This week, Dr. Baker is discussing results from a new poll by the Pew Research Center, and what they mean about America and where we're headed.
Are you fed up with people trying to color you Blue or Red when it comes to your politics? I am, too. So, this week, I'm writing about a new Pew Research Center report that gives us a whole lot of new labels: Are you a Staunch Conservative? A Solid Liberal? How about a Hard-Pressed Democrat? Are you among the Disaffected — or perhaps a Bystander?
This new Pew report parallels my own conclusions as a researcher. I reject the image of our nation as a great divide between Red and Blue. The data I've seen and analyzed just don't support it. Now, a new poll by the Pew Research Center also indicates that the Red/Blue divide is inaccurate and misleading.
Pew researchers identify nine different categories of Americans. Where do you feel at home on this new list? I'm going to give you my own overview of the new labels, but I also encourage you to try Pew's new interactive quiz that will tell you which group they think you're in.
Here's how I would describe Pew's nine new labels …
REPUBLICAN END OF THE SPECTRUM
Staunch Conservatives: These folks take hard-line conservative positions on economic and social matters. They love the Tea Party and hate Obama.
Main Street Republicans: They're conservative, too, but don't agree with the Staunch Conservatives on several key matters. They are more likely to say that corporations make too much profit and less likely to say that environmental laws hurt the economy.
INDEPENDENT MIDDLE
Independents are a growing number of Americans who don't fit the conservative or liberal labels. Pew calls independents a study in contrasts because the three independent types are so diverse. Members of all three don't agree on much of anything, yet take any two categories and you find agreement.
Libertarians and Post-Moderns: They're liberal on social issues, such as abortion or homosexuality, but Libertarians are more like Republicans in their favorable views of free markets and small government, while Post-Moderns are more like Democrats on these issues. In fact, Libertarians abhor the idea of big government, yet support big business. Almost all Post-Moderns say America should do whatever it takes to protect the environment. Most Libertarians disagree.
Disaffecteds: Pew says this group falls right in the middle. They're also independent but, unlike Libertarians and Post-Moderns, are financially stressed and cynical when it comes to politics. Three of four Disaffecteds say big corporations make too much profit. Fewer than half of Disaffecteds believe homosexuality should be accepted by society. Seven of ten Disaffecteds say America should do whatever it takes to protect the environment.
DEMOCRATIC END OF THE SPECTRUM

Democrats have become a mixed bag, too.
Solid Liberals: Think of them as the opposite of Staunch Republicans. These two groups are the extremes in the ideological spectrum.
New Coalition Democrats and Hard-Pressed Democrats: They include more people of color than the largely white Solid Liberals. They are more religious and more socially conservative than the Solid Liberals. The main difference between New Coalition and Hard-Pressed Democrats is the former's "upbeat attitudes" when it comes to economic struggles.
AND THE REST
Bystanders: These are young and politically disengaged Americans. They make up about 10 percent of Americans—but none are registered voters. And, that's not a misprint — this group currently is missing from the ranks of American voters, truly standing on the political sidelines.
Which of these nine do you resonate with?
What do you think of Pew's basic conclusions?
Dr. Wayne E. Baker is a sociologist on the faculty of the University of Michigan Ross School of Business. Baker blogs daily at Our Values and can be reached at ourvaluesproject@gmail.com or on Facebook.