Posted on
Mon, Sep 6, 2010 : 7 a.m.
Motorbike roadtrips and learning to take the 'Long Way' home
By Pam Blakeley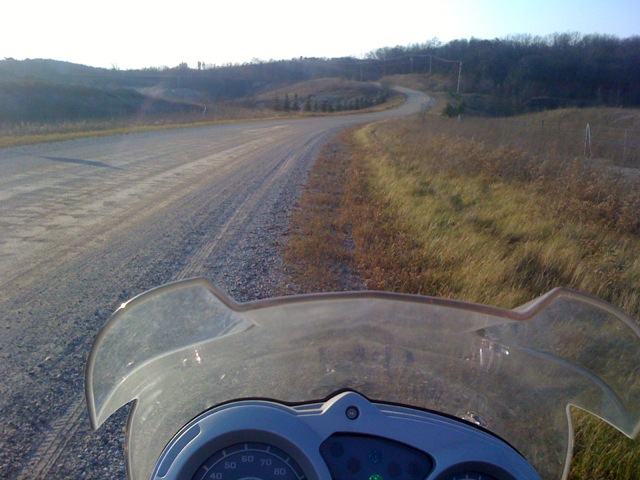 Photo | P Blakeley
Whoever said it's not the destination, but the trip that matters certainly knew what they were talking about. When I look at a calendar and 'X' workdays off, I immediately start pouring over maps, plotting what secondary roads might hold the most adventure. Tiny towns, local diners, oddball roadside attractions - these are all things I look for during a trip. Sometimes the actual arrival at my intended destination is waylaid by discovering someplace even more interesting to kick my sidestand down.
Road tripping takes on a whole new meaning on a motorbike. Anyone familiar with Ewan MacGregor and Charlie Boorman's epic travel series Long Way Round and Long Way Down, has been bitten with the urge to pack up and hit the road for months on end. Reality for most of us is the one- or two-week poor excuse for a vacation. While we all yearn for the European six week mandatory 'holiday', with a little planning, even four days can scratch that wanderlust itch until the next opportunity arises to bolt the confines of your cubicle.

If you're new to traveling by motorbike, the key is to keep it short and sweet. Driving vs. riding for 500 miles is a vastly different experience. In a car, you're more than likely to be on the 'superslab' (moto jargon for interstate highways). I personally avoid all interstate roadways - not only for safety concerns, but because it's just so dang boring (think the 401 and 402 in Ontario).

On a motorbike you don't have the luxury of sticking your car on cruise control, and fiddling with your iPod as you hammer the road at 75 mph. What you trade in speed is the experience of twisting the throttle, feeling the miles pass, and entertaining yourself in your head, as you take in the sights, smells, and sounds of being more connected to your environment. Long distance riding is a physical as well as a mental challenge to your stamina. It's a skill you acquire with experience, and day tripping is a good way to begin your training.

Michigan has some of the most beautiful travel opportunities in the Midwest. A great way to start building your moto-endurance is by taking four- to eight-hour day trips, and figuring you're averaging 60 to 65 mph, this can land you 200 to 500 miles away. If you look at a map and draw circles in 50 mile increments from your starting point, you can get a good idea at where you can comfortably ride to and from in the hours you allot for the trip.

If you're the type of person that needs a little inspirational boost, look into the Iron Butt Association's rides. While these rides concentrate on big Long Distance (official Saddle Sore rides are 1,000 miles in 24 hours), challenging yourself to your own mini Saddle Sore rides in the range of 250 to 500 miles in one day can build your LD riding skills quickly.

In 2004 the AMA sponsored America's Smallest Grand Tour, giving participants a list of all the smallest incorporated towns in all the states for their members to ride. By visiting at least three towns, a rider was eligible for entry for a prize. If you're in an exploratory mood, Michigan has many small towns that are off the beaten path, holding little known roadside attractions, great places to nosh and friendly people who can steer you to the next best kept secret. You'll log in miles on small two-laners, some tarmac, some gravel, and some that look like they haven't seen a vehicle in quite a while. These are all great adventurous ways to gain experience in the saddle, and discover new places, all on two wheels.

Another good tool to discover interesting routes using an iPhone is a nifty little application called Greatest Roads, which is geared specifically to motorcyclists. Individual riders sign in and can upload their favorite routes, find new routes and comment on other's routes, in any state. While it doesn't provide in flight navigation, it does provide you with a listing of directions and a map of the actual route. The routes are by local motorcyclists, and notes about road conditions, interesting sights and other details are included.

While it's hard to give up the secret routes that I've discovered over the years, I've posted several to share because, well, that's part of being a motorcyclist - to share with others so that they have the opportunity to enjoy it as well. I posted my Waterloo area ride - the route is part tarmac and part dirt, utilizes two-laners as well as dirt roads, a single land bridge and several 'Scenic Roadway' signs, and part of the ride takes you through Waterloo Recreation's narrow dirt roads that see very little traffic. A stop at the Waterloo Diner, and you're set for another 2 to 3 hours of meandering. All in all, the route, fully ridden, can be around 120 miles. Depending on the condition of the dirt roads, it's perfect for a leisurely afternoon of riding. If there's been lots of rain, I might suggest knobbies on the ol' scoot.

Taking a day to ride and explore is not only cheap therapy, but also a way to build up saddle endurance for longer trips. Now that you have the 'where to go' hints and ideas, next week I'll go over 'how to go,' as in setting up your bike to be more ergonomically compatible with long distance riding, including luggage choices for overland traveling. Until then, I'll be taking the Long Way Home....