Posted on
Mon, Dec 3, 2012 : 10:38 a.m.
Poachers, thieves and trespassers are not hunters
By Rick Taylor
Today was the perfect day to make our annual trip to cut down a Christmas tree. We've done it for years, and now I enjoy watching my boys cut down the tree we've picked instead of me. It's nice to see my family grow in so many ways. I look forward to the day when my children will teach their children how to cut down a Christmas tree.
We were almost at the tree farm when we passed one of my client's properties for sale. It's a very large property that could easily be used for farming or perfect as a hunting parcel.
It took only seconds for me to notice that all of my "For Sale" signs were missing, four of them to be exact. Furthermore, there was a ground blind for hunting on the property that had not been there before.
I quickly made a phone call to the seller, who lives out of state, and he was shocked to hear someone had been hunting on his property. He was also surprised to learn that this person had removed and thrown my "For Sale" signs about 30 yards inside the property area. I'm sure this "hunter" didn't want people knowing this property was for sale while he was trespassing on my client's property and hoping to shoot deer that he or she had no right to.
I tried to have a nice time while picking and cutting down our Christmas tree with my wife and kids but just couldn't. The seller called back and asked me to remove the blind, and I couldn't have been happier to help him out.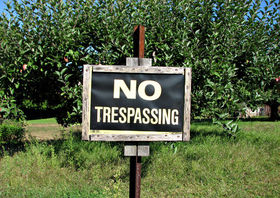 photo by Wikimedia Commons user Djuradj Vujcic
I drove up to the blind and noticed a long plastic covered steel cable wrapped through the blind and around a small tree. I yelled for my son Ricky to grab my saw that we had just used to cut down the Christmas tree, and he knew what was coming.
I promptly cut down that small tree and took the whole damn blind and cable with me and threw it in the back of my Grand Cherokee. Upon removing the ground blind, I found many empty whiskey and wine bottles from the interior. My wife just shook her head and asked how someone could do such a thing as to trespass? I told her that this wasn't a hunter but rather a criminal.
I hate poachers, I hate thieves, and I had trespassers who did what this person did. These law-breakers don't represent the vast majority of legal hunters in this great state, but they are the ones who make all of us look bad. We've seen these criminals on the news poaching deer at night, trespassing and even stealing other hunters tree stands, etc....
We all have a legal duty to turn in hunters who break the law. If you don't turn in a poacher, thief or trespasser, then you help promote the negative stereotypes that exists out there. More importantly, your failure to inform the DNR of these illegal actions will ultimately cause moderate voters to vote against hunter's rights in the future. It's that simple: You either turn in these law-breakers or suffer the consequences.
There isn't a hunter out there who hasn't experienced or know someone who has had been the victim of illegal trespass or had their hunting gear stolen or worse.
To my fellow hunters, I ask that you put your foot down on these fools who threaten our way of life. Please call the Michigan DNR "Report All Poaching" phone line at 800-292-7800 if you suspect someone is acting illegally while hunting.
A convicted trespasser will receive a fine of $500, and hunting while consuming alcohol will land the jerk in jail at a minimum. A poaching conviction can (and often does) lead to a felony conviction, their hunting rights are lost for a number of years, and their vehicle/hunting equipment can also be confiscated.
Use your video camera if you suspect someone is trespassing on your land; its virtually irrefutable in a court of law.
To all my non-hunting friends who read this column; please know that most hunters are good people who follow the letter of the law. Please don't let a select few form your overall opinion of the rest of us.
Rick Taylor warmly welcomes your story ideas and comments. You can reach him by cell at 734-223-5656 or by email at rtaylor@reinhartrealtors.com.