Posted on
Tue, Oct 18, 2011 : 6:25 p.m.
Religion in America: How many Gods do we have?
By Wayne Baker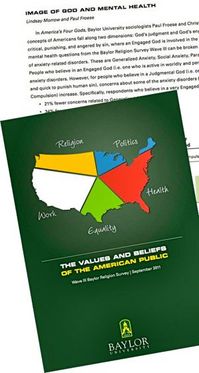 Editor's note: This post is part of a series by Dr. Baker on Our Values about core American values. This week, Dr. Baker is discussing religion in America, American's concepts of God, and how God interacts with us in our lives.
The vast majority of Americans say they believe in God. This fact has been confirmed in survey after survey. Belief in God is one of the ways in which America is different from other economically advanced democracies, as we have reported in OurValues.
But do Americans believe in the same God?
In other words, do we share one conception of God?
The answer is no, according to a new report from the Baylor Religion Survey, which asked over 400 questions about religion and spirituality in America. It's one of the most in-depth studies on these topics.
Thanks go to our colleague Bill Tammeus, who alerted us to this new wave in the Baylor study. Want a copy of the entire 60-page report on "Values and Beliefs of the American Public"? Click here to download a free PDF copy of the Baylor report, pictured at right.
Four Gods live in the American religious pantheon, based on how Americans answered 29 different questions about God's character and behavior. Analysts at Baylor distilled these answers into four images of God.
Which one is closest to your view of God?
Authoritarian God: The Authoritarian God is highly engaged in our daily lives and world affairs. This God keeps a close eye on what we do. The Authoritarian God helps people make decisions and has a hand in the economy and natural disasters.
Benevolent God
: Believers in the Benevolent God also see God's hand in our daily lives and world affairs. But they believe God is "mainly a force of positive influence in the world and is less willing to condemn or punish individuals."
Critical God: The Critical God is not actively engaged in our lives. He is a distant observer who doesn't like the world he sees. Divine reward or punishment will be made in the afterlife.
Distant God: The Distant God is not engaged and not angry. This God is more of "a cosmic force which set the laws of nature in motion."
Which of the Four Gods do you see?
If you see the Authoritarian God, you are in the largest group of Americans. About three of 10 Americans (31.4 percent) believe God is actively engaged and angry. The next largest group (24.4 percent) is the opposite, believing in a Distant God — unengaged and unemotional. Almost as many (23 percent) believe in a Benevolent God. Sixteen percent believe in a Distant God. The remainder, just over 5 percent, are atheists.
Please, add a comment below — tell us which image of God fits your beliefs.
Connect with other OurValues readers via Facebook! You'll be helping to expand our experiment in civil dialogue on the most challenging questions Americans are facing these days.
Originally published at www.OurValues.org, an online experiment in civil dialogue on American values.
Dr. Wayne E. Baker is a sociologist on the faculty of the University of Michigan Ross School of Business. Baker blogs daily at Our Values and can be reached at ourvaluesproject@gmail.com or on Facebook.