Posted on
Fri, Apr 22, 2011 : 11:18 a.m.
Remaking America: Credit ratings and debt ceilings
By Wayne Baker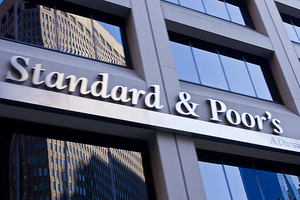 Photo courtesy of Wikimedia Commons
Editor's note: This post is part of a series by Dr. Baker on Our Values about core American values. This week Dr. Baker is discussing the federal budget's potential to remake America.
Are the credit-ratings agencies in the driver's seat, now? You and I have credit ratings. So does the United States. When we don't keep our fiscal house in order, our ratings decline and it's harder to get a mortgage, a loan for college tuition, or anything else that might require borrowing money.
The same is true for a nation, and Standard & Poor's—one of the big three credit rating agencies—is warning that it might downgrade America's credit rating.
Suddenly, we have another player in the mix with the power to remake America!
The rating agency (owned by the McGraw-Hill Companies) reaffirmed the nation's AAA/A-1+ sovereign credit rating, noting our nation's fundamentally strong economy and effective monetary policies. But its statement also described dark clouds that might result in a lower rating: big budget deficits relative to peer nations, rising government indebtedness, and deep conflict in the budget process. As a result, S&P revised its outlook on the long-term rating of the U.S. from stable to negative.
There is a "material risk," S&P analysts say, "that U.S. policymakers might not reach an agreement on how to address medium- and long-term budgetary challenges by 2013." This imbroglio would result in a lowering of the nation's actual credit rating, saying that America is no longer the world's premiere economy. No doubt each side in the budget battles will attempt to use this warning to its advantage.
But while our credit ratings are being lowered, our debt ceiling is reaching unprecedented highs.
The debt ceiling—the legal limit of what the nation can borrow—is not on the lips of many Americans, but it is the latest political hostage in the budget battles that can reshape our nation. Right now, the government borrows about 40 cents of every dollar it spends. Sometime in mid-May, we are expected to hit the debt ceiling and can't borrow any more.
The Obama Administration wants to raise the debt ceiling, while many Republicans (and even some Democrats) say they would vote for that only if the White House also agreed to more spending cuts. It appears to be another case of brinkmanship: without raising the debt ceiling, the nation might go into default—something that has never happened before. Default—failure to repay principal or interest—would be a bad thing, everyone agrees.
But everyone doesn't agree that a default would be inevitable if we hit the debt ceiling, despite the dire warnings. As The Economist points out, there is plenty of cash coming in to cover interest charges for the rest of the year. There are other options among the world's economic legerdemain and shell-shuffling that our government could use to avoid default.
A true default is serious business, but the debt ceiling is a bit of a red herring. We've raised the debt ceiling ten times in the last 10 years. Whether Republicans or Democrats supported it depended more on who was in power than anything else, notes Jon Healey of the Los Angeles Times. And Healy notes something else that has been overlooked: The budget resolutions approved by House Republicans—if they became law—would require raising the debt ceiling several times in the next decade.
How much do you think Americans know about the debt ceiling? Does our nation's credit rating concern you? How much do you think Americans care about these issues? This week, what's your "take" on the remaking of America?
Dr. Wayne E. Baker is a sociologist on the faculty of the University of Michigan Ross School of Business. Baker blogs daily at Our Values and can be reached at ourvaluesproject@gmail.com or on Facebook.