Posted on
Wed, Nov 4, 2009 : 12:15 p.m.
Running Companies Go Green
By Chelsea Hanson
Running is one of the easiest sports to take up. Beyond a pair of shoes, you just need to open your door, step outside, and you're ready to go. In this sense, running is directly connected to nature. Each step creates an impact in your body as you run, and each step connects you to the ground you're running on, the air you're breathing and the environment around you.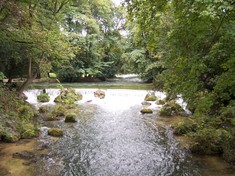 Running itself doesn't have much environmental impact, but companies that create running shoes and apparel do have a major impact on the environment.
Running shoes can easily be made up of as many as 50 components, put together by hand in factories, and many components are not assembled in the same place they are created. The biggest environmental challenge for the shoe industry is the sole, which is generally made up of three layers—the insole, midsole, and outsole. The insole, normally made of EVA (ethelyne vinyl acetate) foam, is non-biodegradable (www.consumersinternational.org).
Waste and disposal is also a key issue. Midsoles of shoes are generally cut out of large sheets, creating unusable material that is excess. Companies also create their products in places like China, where environmental policies are more lax. Thus, some materials, such as metallic fabric cuttings and tissue fabric cuttings could contaminate the environment (www.consumersinternational.org).
But don't put away your running shoes just yet! There are companies that are working towards a greener future, and making more environmentally friendly changes in their products and how they produce these products. Here are a few:
Brooks has taken huge strides in creating a more environmentally friendly manufacturing process as well as greener products. All the paper Brooks uses is certified by the Forest Stewardship Council (FSC), and is made using wood from well-managed forests, recycled materials, or company controlled sources.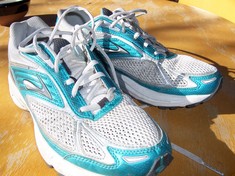 Brooks shoes and apparel are also more environmentally friendly. Their midsole manufacturing process eliminates around 50 percent of waste with their Compression Molded Preform (CMP) midsole. Also, Brooks' outsole, made from their HPR (High Performance Rubber), is made from sand rather than oil, reducing their use of petroleum.
Pearl Izumi uses many natural materials in their products for a greener impact. Many PI tops are made with bamboo or organic cotton. Bamboo, one of the fastest growing plants on the Earth, is highly sustainable. Organic cotton is grown using methods and materials that have a reduced impact on the environment. Pearl Izumi also uses recycled content in some apparel.
Adidas, New Balance, and Reebok:
These three companies have all also made strides toward lessening their environmental impact. They all have strong requirements regarding their production of VOCs (volatile organic compounds) and solvents, use of recycled or sustainable materials, use of renewable energy and waste disposal.
Adidas and Reebok have implemented environmental management and health and safety systems. They also include qualification programs and provide environmental training to factories and environmental reporting at the factory level.
While running shoes and apparel have an impact on the environment, knowing how your favorite shoe company is lessening their environmental impact may just give you a lighter step as you head out the door for your next run.
Chelsea Earls is a runner and works at Running Fit in Ann Arbor. She can be reached at chelsea.earls@gmail.com