Posted on
Fri, Jun 25, 2010 : 8:15 a.m.
Science policy: Why do we do science? And how much should we spend doing it?
By Erica Lanni
I am currently participating in a workshop on science policy offered by the Consortium for Science and Policy Outcomes (CSPO). These posts are summaries of some of the interesting material we are studying here in Washington, D.C., this summer!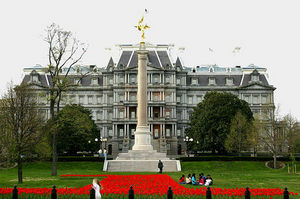 Photo by DB King
The workshop opened with two deceptively basic questions: Why do we do science? And, how much should we spend doing it? 
The group quickly thought of many reasons to do science. Among them were to improve public health, quality of life and education. We also thought that science was important for creating jobs, pursuing innovation, national prestige and security. However, putting dollar figures on these areas was more difficult. 

Budget basics:
As you read this, the fiscal year 2011 budget is being hammered out between the U.S. Congress — which appropriates, or distributes, funds — and the executive branch, which asks for funding on behalf of the federal agencies. Of the $3.7 trillion requested in the budget, approximately 60 percent is mandatory spending for entitlement programs such as Medicare, Medicaid and Social Security. The remaining 40 percent is discretionary spending. 
Discretionary spending is optional and must be renewed every year; of this, just over half is for defense. The remaining portion, or about 17 percent of the total budget, is used to pay for all other government services and programs. If you are interested in the specifics, the New York Times has a fantastic interactive feature that visualizes the budget for you.
The area we were most interested in, federal funding for research and development, straddles the civilian/defense divide and totals about $148.1 billion, or 11 percent of discretionary spending and 4 percent of the total budget. Notably, this figure represents about 1 percent of the gross domestic product (GDP), which is in line with most other developed countries in the western hemisphere (to see this visually, this figure is helpful but also includes investment from the private sector). It has been almost constant since the 1960s. You can see this trend even more clearly on a figure compiled by the American Association for the Advancement of Science.

How research and development dollars are spent
Taking a look at a pie chart assembled by AAAS for 2009, we can see that defense spending dominates the R&D budget. This was not a surprise, but the portion that NASA receives was a bit of a shock, and we asked several questions about NASA's goals. Our speakers explained space exploration is near to America's heart and a source of national pride, so it continues to be well funded. Additionally, they have had successes with the international space station. 
Although I am still skeptical about putting such a large amount of money in NASA, check out their 2011 budget and see what you think! After a drive in the late 1990s to double its budget, the National Institutes of Health (NIH) also receives a sizable piece of the budget. We also looked at changes from 2010 to 2011. These highlight the research priorities of the Obama administration, including reducing defense spending, refocusing NASA toward research, and driving more basic research by increasing the NSF's budget. If you are interested in more details, a copy of the presentation given by AAAS can be found on their website.
The budget process: How it all happens
The budget season opens in about September with a request from a federal agency to Office of Management and Budget (OMB). This number is loosely based on a guide number that was published in the previous year's budget. After several rounds of negotiation, during which the current budget is typically enacted, the White House sends a budget request to Congress. This typically occurs in January of the next year. From January to September, Congress holds hearings and gathers information from the White House and federal agencies to determine what money is actually needed and why. 
Congress will then do two things: authorize and appropriate funds. Notably, only the latter results in money being disbursed from the treasury. Authorization serves mostly a political purpose and signals what Congress is willing to spend. Authorization bills are also used to inform the appropriation debates. After extensive negotiation, first at the committee level, then at the chamber level, and finally at the congressional level, Congress will send the budget back to the president to sign. For more details, check out a description at the Center on Budget and Policy Priorities.
Apportionment: Budgeting does not happen in a vacuum
Both in the White House and within the congressional appropriation committees, funds are separated into categories where agencies compete with each other for their share of the pot. However, the two structures differ. OMB has four resource management offices, which mix programs funded through mandatory and discretionary spending. For example, in health programs, NIH is in competition with Medicaid and Medicare, two huge mandatory programs, for funding. Within the congressional appropriations committee, however, NIH is under the prevue of Labor, Health and Human Services, Education subcommitee where it competes for dollars against discretionary funding like that for the Centers for Disease Control, education initiatives and worker training. You can look at the summary of the final 2010 Labor, Health and Human Services, Education subcommittee bill here; it is pretty interesting.
The budget: Lessons learned
Science is a valuable investment—it helps create new industries, improves health and enhances security. The U.S. has also long been a leader in the scientific enterprise, in part due to strong government programs and because of impressive investment by private industries, particularly in development. Although we continue to do about a third of the world's investment in research and development, other nations are rapidly expanding their programs. To remain competitive with other nations and to stimulate our own growth, I think it is encouraging our government plans to increase funding for basic research, and I am optimistic that we will see valuable returns from the investment.
Erica is a graduate student studying organic-materials chemistry at the University of Michigan. She would love to answer any questions readers may have, so please feel free to send or post them. She can be reached by e-mail at 27nickel@gmail.com