Posted on
Tue, Oct 26, 2010 : 11:47 a.m.
'Indivisible' South Asian American poets to have reading at U-M on Monday
By Frances Kai-Hwa Wang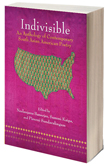 I once read back ten years' worth of "The Best American Poetry," cover to cover, volume after volume, systematically going back in time, not understanding why I was not "getting" this poetry that was supposed to be the best, wondering if I just was not smart enough. The last poem I read, the one that made me finally stop, took place in a Thai restaurant, with a Chinese gang scheming in a back room and the restaurant owner's son dressed as a (Japanese) samurai warrior, snarling. Snarling! It was a strange juxtaposition of tired old stereotypes, but I did not get the sense that the writer knew they were tired old stereotypes. I think the scene made sense to him.
Then I realized one of the reasons the poetry was not resonating with me was that I had such a different experience of the world. I then started reading Asian American poetry and although not all the experiences were the same as mine, finally, I could see the images and feel the emotions and hear the music in the words. The best American poetry comes from a wide range of Americans.
At 4 p.m. on Nov. 1 at 3222 Angell Hall, we have an opportunity to hear the South Asian American poets featured in "Indivisible: An Anthology of Contemporary South Asian American Poetry". There will be a discussion facilitated by Ph.D. candidate Manan Desai at 4 p.m., and a poetry reading at 5 p.m. by "Indivisible" authors Neelanjana Banerjee (editor), Faisal Mohyuddin, and Sejal Shah.
From the University of Michigan English Department website:
The first anthology of its kind, Indivisible brings together American poets who trace their roots to Bangladesh, India, Nepal, Pakistan and Sri Lanka. These poems take us from basketball courts to Bollywood, from the Grand Canyon to sugar plantations, and from Hindu-Muslim riots in India to anti-immigrant attacks on the streets of post-9/11 America. Vijay Prasad, author of The Darker Nations: A People's History of the Third World and The Karma of Brown Folk, says: "No-one can speak for 'America' or 'Humanity,' but these poems give us a glimpse of both. Scattered among them are treasures and heartbreaks, mercurial descriptions of life and languid backward glances at what is left behind, what cannot be recovered. This is a language map of South Asian America. Come. Come for a ride."

Nicola's Books will provide copies of "Indivisible" for purchase.
The event is co-sponsored by the MFA Program in Creative Writing, Comparative Literature's Year of Comparison, the Center for South Asian Studies, the Department of English Language & Literature, and the Asian/Pacific Islander American Studies Program.
Frances Kai-Hwa Wang is a second-generation Chinese American from California who now divides her time between Ann Arbor and the Big Island of Hawaii. She is editor of IMDiversity.com Asian American Village, lead multicultural contributor for AnnArbor.com, and a contributor for New America Media's Ethnoblog. She is a popular speaker on Asian Pacific American and multicultural issues. Check out her website at franceskaihwawang.com, her blog at franceskaihwawang.blogspot.com, and she can be reached at fkwang888@gmail.com.