Posted on
Fri, Oct 7, 2011 : 3:03 p.m.
Special 'Michigan Saves' mortgage program helps green up your home
By Linda Lombardini
I love it when a green innovation enters my own profession. There's an exciting, smart new program called Michigan Saves that helps homeowners and buyers...
green up their homes,
afford the updates by folding them into a new or refinanced mortgage ,
save money long-term with greater energy efficiency
and get money back with DTE rebates of $500-$2,500. That's cold, hard cash, not credit.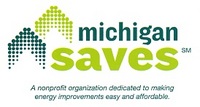 Pretty cool, eh? With winter coming, you've no doubt been dreaming about draft-free windows, better insulation or an Energy Star furnace. With Michigan Saves you may be able to do instead of just dream — and do so easily. The program has already vetted its contractors, and you can apply for prequalification online.
I also love it when synchronicity makes decisions even easier: Mortgage rates just hit an all-time record low. Now's the time.
Michigan Saves also has a Home Loan Program and will have a commercial component as well. Detroit is running a pilot now, and by early next year, the statewide program for small businesses and nonprofits should be ready.
Linda Lombardini lives greenly, happily and simply in the city that the New York Times says has "urban sophistication." You can contact her at Linda@TrilliumRealtors.com.