Posted on
Fri, Jun 18, 2010 : 2 p.m.
Ann Arbor plans streetlight de-energizing pilot
By Andrew Brix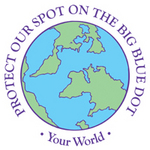 To help address the statewide funding crises, Ann Arbor's adopted budget for fiscal year 2011, which begins on July 1, includes plans to de-energize approximately 1,250 streetlights throughout the city. This action will allow the city to save $120,000 annually in energy costs, which are supported by the General Fund, while also reducing annual CO2 emissions by nearly 1,000 metric tons.
Specific lighting criteria were used to identify the approximately 1,250 streetlights that will be de-energized; these streetlights were found to surpass lighting guidelines. Streetlight specifications include: 190-foot spacing in between streetlights outside of the downtown. No streetlights will be de-energized within the downtown district, which requires 40- to 60-foot spacing in between streetlights. Where a streetlight has been intentionally de-energized, a sign will be posted indicating that streetlight has been de-energized by the city and the city's Customer Service Center phone number (734-794-6320) will be listed for questions. Feedback also can be submitted via e-mail to customerservice@a2gov.org.
Prior to de-energizing all 1,250 identified lights after July 1, the City of Ann Arbor has requested that DTE Energy conduct a technical pilot in June that will include de-energizing approximately 50 streetlights in an area that will run along Stadium Boulevard from Packard to Washtenaw Avenue and south to Independence Boulevard. (See map below.) DTE Energy will mail letters to customers in the technical-pilot area. The technical pilot will be rolled out during the course of three to four weeks.
The city will evaluate the experience in this pilot area and based upon observed results and neighborhood feedback may make adjustments to the citywide plan. DTE Energy estimates all targeted streetlights will be turned off within eight weeks after the pilot is completed and the city instructs DTE Energy to proceed with the full plan.
Many cities throughout Michigan, including Jackson, Burton, Flint and Grand Rapids, as well as across the country, such as Fresno, Calif., and Phoenix have considered turning off streetlights in an effort to decrease energy costs and help balance general fund budgets while maintaining standard lighting guidelines.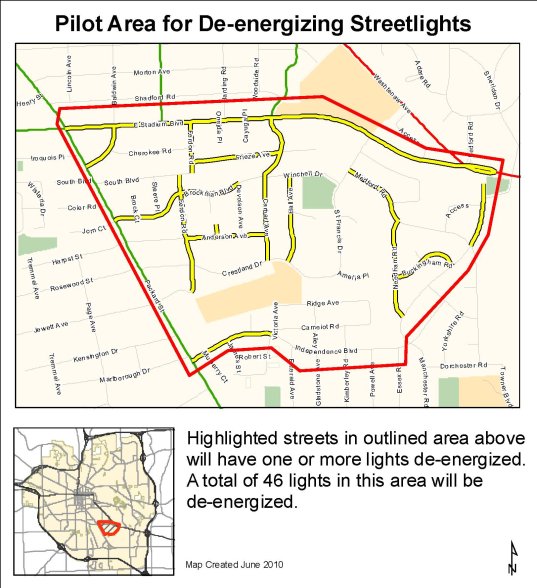 Map by City of Ann Arbor
More information, including a list of frequently asked questions, is available on the City's website. Andrew Brix is the City of Ann Arbor's Energy Programs Manager and contributes to AnnArbor.com as part of the Your World series. He can be reached at energy@a2gov.org. Learn more about local energy efforts at www.a2gov.org/energy.
Your World provides local environmental information to our community. Contributing partners include: Washtenaw County's Environmental Health Division; the nonprofit Recycle Ann Arbor; the City of Ann Arbor's Public Services Area, Natural Area Preservation, Systems Planning programs for Energy, Environmental Coordination, Solid Waste, Transportation, and Water Resources.