Posted on
Thu, Nov 3, 2011 : 7:11 p.m.
Taxes: How scary are flat taxes, and who pays under Cain's 9-9-9 plan?
By Wayne Baker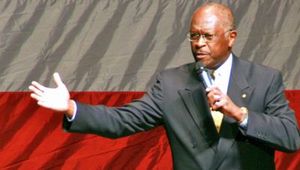 Image in public domain via Wikimedia Commons.
Editor's note: This post is part of a series by Dr. Baker on Our Values about core American values. This week, Dr. Baker is discussing flat taxes, Cain's flat tax plan, and how our morals may tie into tax policies.
What's scariest on Halloween 2011:
Ghosts, goblins — or flat taxes?
Republican presidential candidate Herman Cain raised the specter of flat taxes with his 9-9-9 plan — and his popularity has risen, pollsters say, largely because of this idea. Now, other candidates are stampeding to present their own tax plans.
What do you think of Cain's plan?
The bare bones are these: 9 percent business flat tax, 9 percent individual flat tax and 9 percent national sales tax.
Cain explains the details and benefits on his web site: "The 9-9-9 Plan gets Washington D.C. out of the business of picking winners and losers, using the tax code to dole out favors, and dividing the country with class warfare. It is fair, simple, transparent and efficient. It taxes everything once and nothing twice. It taxes the broadest possible base at the lowest possible rates. It is neutral with respect to savings and consumption, capital and labor, imports and exports and whether companies pay dividends or retain earnings."
Most voters (61 percent ) agree that it's "a good idea to get rid of the existing income tax code and replace it with something simpler," according to a new poll by Rassmussen Reports. Only 16 percent say we don't need a simpler tax code (the rest of respondents say they are unsure).
However, only three of 10 (31 percent ) voters favor Cain's 9-9-9 plan, according to Rassmussen Reports. About half (49 percent) of American voters are against Cain's flat-tax proposal, and 20 percent are not sure. Opposition to 9-9-9 has grown in the recent weeks.
I'm not quite sure what to make of it, but 31 percent of Americans also say they believe in ghosts, according to another Rassmussen Reports poll. Belief in ghosts is on the rise, up from 27 percent last year and 23percent the year before.

What do you think of Cain's 9-9-9 flat tax plan?

Does it scare you?

Or, is it better than what we have now?


Who pays under Cain's 9-9-9 plan?
Would you pay less or more under Herman Cain's 9-9-9 plan? This plan includes a 9 percent national sales tax, a 9 percent business income flat tax, and a 9 percent individual income flat tax.
The answer, according to the nonpartisan Tax Policy Center, is that most of us would pay more under Cain's plan than the current system. About 84 percent of all households would feel a bigger tax bite. CNN Money digested the report and provided the basic facts. Here are some of them.
Poor households would be hit hard by 9-9-9, unless there are some serious modifications to the plan — but then modifications and revisions start to complicate the simplicity of a flat tax system. Under the current system, poor households pay no federal income tax. Under Cain's proposal, households making less than $30,000 per year may see as much as 20 percent less take-home pay than they would under the current system.
At the other end of the income scale, affluent Americans would have more money to take home under 9-9-9. Households with annual incomes of $200,000 or more could bring home as much as 22 percent more. Almost all households making over a $1,000,000 a year would get a whopping tax cut of almost one-half million dollars on average.
The Tax Policy center says that 9-9-9 would not raise more revenue than the current system does. What it does do, in effect, is raise taxes on the poor and lower taxes on the rich. But flat-tax proposals continue to have allure.
Is it because they offer simplicity and efficiency?

Make it easy in April to file your taxes?

What do you think is so attractive in these flat-tax proposals?


Please add a comment below….
and, connect with other OurValues readers via Facebook!
Originally published at www.OurValues.org, an online experiment in civil dialogue on American values.
Dr. Wayne E. Baker is a sociologist on the faculty of the University of Michigan Ross School of Business. Baker blogs daily at Our Values and can be reached at ourvaluesproject@gmail.com or on Facebook.