Posted on
Tue, Sep 6, 2011 : 4:51 p.m.
The 9/11 Decade: Do you feel safe, and why no major attacks since 2001?
By Wayne Baker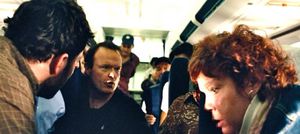 Photo from the feature film "United 93"
Editor's note: This post is part of a series by Dr. Baker on Our Values about core American values. This week, Dr. Baker is discussing the upcoming anniversary of the 9/11 attacks and whether or not people are still concerned with national security.
How safe do you feel ten years after 9/11? This Sunday is the 10th anniversary of the 9/11 terror attacks. Media floodgates are bursting this week in the buildup to Sunday, covering every possible theme, detail, and angle. It will be an emotional and heart-wrenching week as we relive the tragedy. (See film critic Ed McNulty's overview of 9/11 films for more on the emotional scenes we will revisit as a nation.)
Meanwhile, we will see a strengthening of security in public places, transportation systems, power plants, major events, and other sites. Al-Qaida cited the tenth observance of 9/11 as a possible occasion to strike again. Or, it might be the time a lone individual or small group plans to strike.
National security is now a major priority — perhaps even an obsession. Keeping the nation safe and secure has become one of the top 10 core American values, as my national surveys at the end of the 9/11 decade have shown. A core value is a principle that is intensely felt, widely held, and stable over time.
Indeed, 85 percent of Americans agree with this statement: "The protection of the United States from both internal and external threats is a major concern for me. "
Some Americans are so concerned about national security that they are willing to give up give up any freedom the government asks in order to protect this country's safety. This is not a majority view, but more than a third of Americans are so willing.
Are you willing as well?
Our society has undergone a lot of changes since 9/11, meant to protect the nation against threats to our security. I'm not sure if I feel safer or not. I certainly feel more inconvenienced, especially every time I go through airport security, shoes off, pockets empty and nothing in my hand except a boarding pass.
Why no major attacks since 2001?
Why haven't we had a major terror attack on American soil since 9/11? Is it because our government's deterrence and detection methods are so good? Perhaps the wars in Iraq and Afghanistan helped to prevent a new attack? Or is it just plain dumb luck?
We don't really know the answer, of course. It could be all of these reasons or some other factors we haven't considered. Whatever the facts are, it's instructive to consider what Americans believe about this question. Beliefs can shape our decisions and actions more than facts do.
Just about everyone has an opinion about why we haven't seen another attack, according to a Pew Research Center poll taken last month.
Don't Know: Only 7 percent of Americans say they don't know why.
Effective precautions: Four of ten (43 percent) believe we haven't had a major attack since 9/11 because the government is doing a good job protecting the nation.
Luck: About a third say it's just because we've been lucky so far. Older Americans are even more likely to cite luck as the reason.
Tough target: About one in four young Americans (ages 18-29) like to think it's because America is a difficult target, but only one in 10 older Americans (65+) agree with this.
Wars? The decade-long wars in Iraq and Afghanistan, so costly in life and resources, have not lessened the chances of another major attack, most Americans say. Only one in four Americans think the chances are lower because of these wars, with little variation in opinion between Republicans and Democrats. More Americans believe the wars have increased, rather than decreased, the chances of another terrorist attack, though Republicans are less likely than Democrats or Independents to agree.
This week on OurValues.org, we'll cover a range of themes related to 9/11, with special emphasis on values. Today, tell us what you think about national security and your theory on why we haven't had any major attacks since 2001:
How safe do you feel ten years after the events?
How far are you willing to go to ensure our safety?
What's your theory on why there haven't been any major attacks?
Do you worry we'll eventually have another attack?


Dr. Wayne E. Baker is a sociologist on the faculty of the University of Michigan Ross School of Business. Baker blogs daily at Our Values and can be reached at ourvaluesproject@gmail.com or on Facebook.