Posted on
Wed, Nov 11, 2009 : 7:45 a.m.
The mystery of the down-pointing hand
By Laura Bien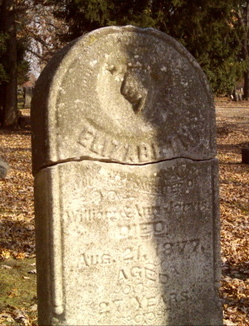 "Look at that," I said to my husband during a walk last weekend in Highland Cemetery.
"That hand is pointing down. Do you think that means they thought she was going to..."
We stared at the mysterious symbol that darkly suggested that the person it signified, one Elizabeth from the Jarvis family, was headed for the nether regions.
More exploration and a bit of research uncovered the answer to the mystery of the down-pointing hand.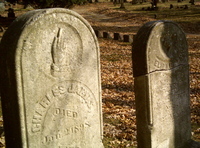 Elizabeth's grave did seem to have a downward-pointing hand, but the finger looked short, as if it were curled a bit, or pinching something against the thumb.
Her grave stood beside another stone with a hand pointing upwards. We left the area confused.
It seemed unlikely that her large gravestone would appear so close to the others, in what was a well-known Ypsilanti family that had produced a former mayor.
Would such a prominent family display a large gravestone shaming one of their members with a finger pointing "below"? It seemed unlikely.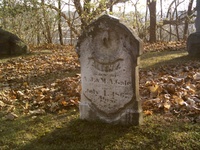 Another grave in a different section of the serene cemetery displayed a similar symbol, yet lacked any additional clues.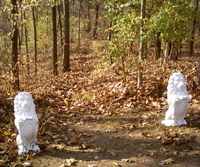 Along the way we spotted the lions that guard a path extending back into the woods.
The lions were freshly painted white.
Behind them, the path's leaves were tousled; someone had traveled the path.
Another cemetery animal is the Deubel dog nearby, lying forever faithful next to its master's large grave.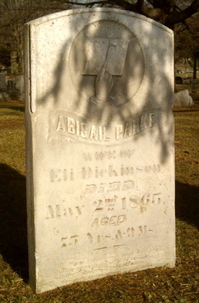 We saw other examples of hands in the cemetery, such as this one at left, pointing at a book meant to signify the Bible.
Another example, at right, appeared as a small hand holding a scroll unrolled down the front of the grave bearing information about the deceased.
This unusual design was not duplicated anywhere else in the cemetery. A modern grave nearby showed praying hands. As we were leaving, finally we saw it.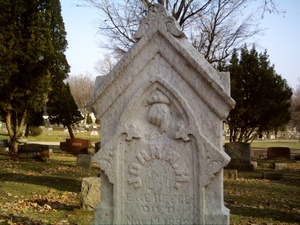 A grave for "John W. H.", son of E. and E. Reese, who died at age 15, showed a down-pointing hand, with the same foreshortened index finger. But—what was that? A chain, so faint from erosion it was barely visible—only the low afternoon sun brought it out. The hand was holding a broken chain, which later research revealed signified the chain of life, or the bonds of marriage, broken by death.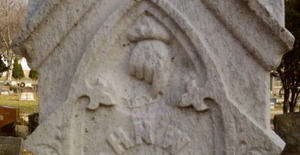 Elizabeth's grave shows the identical hand position. It seems likely her grave also once showed a broken chain. She died at age 27, so the broken chain of life would have been all the more poignant for her family left behind. Though the chain is not now visible on her weathered tombstone (and was barely visible on John Reese's's stone), the mirrored hand positions make this guess plausible.
Research also revealed that the downward-pointing hand, without chain, does indeed exist as a gravestone symbol—but signifies not damnation but only a sudden death, or the finger of God coming down to select someone to take to heaven.
Elizabeth was not stigmatized with a bad symbol on her grave. Her family chose a motif to show their sadness at her leaving so young. Her grave stands proudly, with silent dignity, in the Scovill plot. Visit and see for yourself—the low fall and winter sun provides excellent slanted light that brings out beautiful details in Highland's graceful old stones.
Laura Bien is the author of "Stud Bunnies and the Underwear Club: Tales from the Ypsilanti Archives," to be published this winter. She also writes the historical blog "Dusty Diary" and may be contacted at ypsidixit@gmail.com.