Posted on
Fri, Feb 25, 2011 : 10:52 a.m.
The Saner Living Guru: Want a way to deal with resistance?
By Chris Wucherer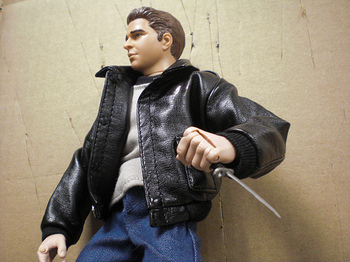 There is a lot of resistance going on around the world today, from
Egypt
to
Libya
. This contagious force is capturing the attention of all of us.
It has me thinking about the everyday run-of the-mill resistance that we all experience on a daily basis. You know resistance — that juvenile delinquent lurking in your brain that says "nope, nah you ain't gonna make me do that!"
This is true even when we know something is 'good' for us, like exercising or not eating that second piece of chocolate or what someone is trying to tell us about ourselves that has a kernel of truth to it.
All systems like to stay the same, and human systems are no different. Our default is to stay the same, even when we profess that we want to be different, achieve differently or live differently. We resist what we know is good for us. When we begin a change process, it affects every person in our world.
It can be confusing when people we love act up, fight with us and generally do weird things, just to get us to stop changing. This is called a "change back reaction," and it happens because these important people in our lives are just as frightened of change as we are.
So when we change, it is an invitation for others to change. Change is contagious.
When others act up because of our change process, it is a great excuse to blame them for our inability to stay focused on our own hard process of change. The reality is that the juvenile delinquent roaming around the street corners our brain causing, confusion and derailment, is the cause of our inability to stay the course.
The average human brain has more than 60,000 unwanted thoughts running through it per day. That is one boatload of brain spam that our juvenile delinquent is strewing around the creases and crevasses of our wonderful brains. Let's find that unruly adolescent and put her in rehab.
We have to:
Figure out how we get in our own way
Develop a change plan
Find a support system to help us create change
These steps will build a foundation on which we can create a life vision and begin living life out of our passion.
Listen to this inspiring story from NPR's Storycorps.
Taking responsibility for our own life choices is saner living.
What does your juvenile delinquent say to you? What techniques do you use to quiet her down? Help start an exchange on dealing with resistance by answering these questions in the comment box.
Saner living is the new life balance!
Chris Wucherer, a life coach, business coach and psychotherapist, has 28 years of experience helping people create saner lives. She uses a wide array of practical tools, tips and a deep visioning process to help people move forward. Chris firmly believes and practices the principles that saner living makes for great living. She is the Saner Living Guru. Chris writes a blog and has a website. You can reach her at 734-669-7202 or by email.
Chris is