To start networking, you must first communicate
Posted on Thu, Oct 28, 2010 : 6 a.m.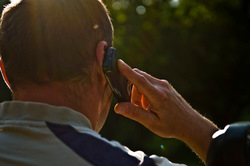 Photo courtesy of Tomasz Piskorski

I had a big client meeting the other morning. This was a site visit with the funding agencies for a project I am working on through my old business. I was to be there at 10 a.m. to help with any technical issues that might/always do crop up when you demo a system for a funding agency.

Showing up should have been the easy part.

I arrived at the building around 10, only to discover the building was locked with only card-key access for the outer doors. I'm nothing if not persistent, so I eventually found a path through the cafeteria to the elevators -- which were also locked out with a card-key reader. Not to be put off, I headed for the stairs.

And the floor I needed to reach was also locked.

Of course, by this time I was beginning to get a bit frantic. Fortunately, a very kind gentleman who had a card-key helped me get to the third floor -- where I discovered that the meeting had been moved at the last minute with no information as to where.

So, what does that have to do with networking?

It's all about communication. And I'm as much a sinner in this area as anyone. It's on my list of habits to acquire, though. Here's some of the information I want to make sure I convey to those I am planning on meeting:
The fact that we are meeting. I'm going to drop them an e-mail or give them a call to verify time, date, and location -- the business day before the event.
What I look like. I don't know if you've ever had this situation: You show up at the coffee shop to meet a new person referred to you by one of your connections. At that moment you realize you have no clue what they look like. I try to give people a brief description of myself or point them to a picture of me online.
How to contact me. People occasionally have last-minute emergencies. How painful it is for everyone involved if they have no way to contact me.
Request their contact info. I need this in case it's I who have the difficulties. I probably should get this from them when we set up the appointment in the first place.
Homework. If we are meeting for a purpose which requires preparation from either or both of us, I had better make sure we both remember.
Now, of course, not all of this stuff is necessary. If the person I'm meeting is a long-time friend, then I probably don't have to let them know what I look like. In all cases, though, it probably wouldn't be a bad idea to verify we are actually having the visit. Taking that little extra time will take a lot of pressure off everyone's minds.
Oh, to finish the story: Yes, I finally got to the meeting. When I couldn't get through to anyone via cell phone or text messaging, I finally e-mailed all of the participants in the site visit, assuming one or two would have gotten bored and started checking their messages.
They rescued me five minutes later.