Posted on
Tue, Oct 25, 2011 : 8:42 p.m.
Wellbeing: What's your rung on the 0-10 ladder? Can money buy happiness?
By Wayne Baker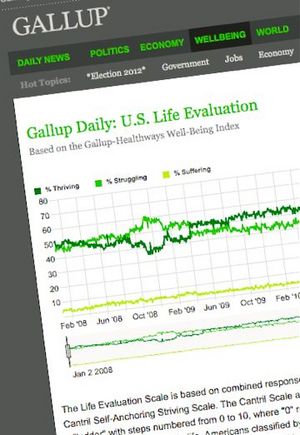 Editor's note: This post is part of a series by Dr. Baker on Our Values about core American values. This week, Dr. Baker is discussing well-being and which aspects of our lives determine how we feel about our lives as a whole.
Is your life today the best, the worst — or something in between? Today, how do you answer this standard Gallup question…
Imagine a ladder with steps 0, 1, 2, 3 and so forth up to 10. The top step, 10, is the best possible life; the bottom step, 0, is the worst possible life.
On which step would you say your life is today?
Where will you be five years from now?
Gallup asks such questions on a daily basis, so we know how Americans and people around the globe respond over time. Gallup combines into a single score a person's evaluation of life today and in five years.
Your rating of life today and five years from now puts you in one of three categories, according to Gallup: thriving, struggling, or suffering.
Thriving means that a person has a positive and strong evaluation of life now and in the future. A person in the thriving category is standing today on rung 7 or higher, and expects to be on at least 8 in the future. At the bottom of the ladder, people who are suffering say their life today is on step 4 or lower — and they expect to be in the same place five years from now.
People who are struggling are on the middle rungs of the ladder, with those who are thriving above them and those who are suffering below.
During last week, only 4 percent of Americans said they were suffering. Most Americans were either thriving (49 percent to 51 percent) or struggling (45-46 percent).

What step are you on today?

What step do you expect to be on in five years?

Are you thriving, struggling, or suffering?

Can money buy happiness?

Would more money make you happier? Would it improve your expectations of the quality of your life five years from now, moving you up the ladder of wellbeing discussed above?
There's good research on these questions, provided by an analysis of Gallup survey data on wellbeing. Two psychologists, Nobel laureate Daniel Kahneman and Angust Deaton, considered 450,000 responses to Gallup's questions about emotional wellbeing and life evaluation.
Emotional wellbeing refers to how a person felt a day before the survey (stressed, happy, angry, etc.). Life evaluation refers to the ladder scale we discussed above — which rung your life is on today and which rung you expect to be on in five years. They published their results in the Proceedings of the National Academy of Sciences.
Here's what they found out: More money does indeed buy a more positive evaluation of one's life. People steadily move up the ladder as their incomes improve. Even wealthy people experience this positive effect.
Emotional wellbeing — that is, how you felt the day before the survey — also improves as income rises. But more important factors in your daily emotional life are your health, loneliness, smoking, care giving and so forth.
And, while emotional wellbeing rises with income, it hits a ceiling at $75,000 in annual income. After this figure, people don't report improvements in their daily emotional wellbeing. The authors conclude that "high income buys life satisfaction but not happiness, and that low income is associated both with low life evaluation and low emotional well-being."
Have changes in income affected your life satisfaction?

Have these changes influenced your emotional wellbeing?

Can money buy happiness after all?
Please, add a comment below ….

And, Connect with other OurValues readers via Facebook!
Originally published at www.OurValues.org, an online experiment in civil dialogue on American values.
Dr. Wayne E. Baker is a sociologist on the faculty of the University of Michigan Ross School of Business. Baker blogs daily at Our Values and can be reached at ourvaluesproject@gmail.com or on Facebook.