Posted on
Sun, Dec 27, 2009 : 6 a.m.
Wishing for an American New Year's Eve
By Frances Kai-Hwa Wang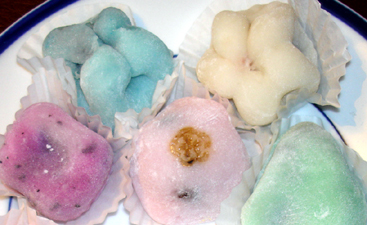 Mochi--a must-have Japanese sweet for Oshougatsu or Japanese New Year's--made by Two Ladies Kitchen in Hilo, HI. Photo courtesy of Mena Wang.
Oh the excitement of New Year's Eve! The perfect little black dress, impossibly high heels, dazzling rhinestones, an invitation to THE New Year's Eve party of the year, a handsome and suave "New Year's Eve Date," a fluted glass of champagne, cute foods, counting down with the crowd, getting magically kissed right at the stroke of midnight (the primary purpose of said "New Year's Eve Date"), singing
Auld Lang Syne
with one's dearest friends, starting on that new year's resolution to lose ten pounds (tomorrow)…
Oh the glamour! The style! The fantasy! As the child of immigrants, with my nose pressed up against the glass, it all seemed so exquisitely "American" and romantic, "better" in a way that as a child I had somehow decided that cars with trunks, ten-speed bikes, store-bought clothes, Adidas running shoes, and the symphony must be "better" and "more American," because they were things "real Americans" (read Caucasian Americans) took for granted but which my sensible immigrant family would never indulge. I thought we were so uncultured and uncouth.
That must have been the attraction of television shows like Dallas and Dynasty, of old black and white movies with Cary Grant and Audrey Hepburn, even today's obsession with the rich and famous—a chance to ogle the jewels, the ballgowns, the tuxedos, the beautiful and glittering lifestyle. How smoothly "real Americans" glide through life, so charmed and utterly sure of themselves! (Aside: Dr. Wilmer J. Leon III suggests in TheGrio.com that a darker-skinned couple could never have crashed the White House like the Salahis because only the rich and white and blond can exude that kind of confidence and sense of entitlement—and be assumed by white racial profiling to belong.)
I learned about New Year's Eve from television, movies, newspapers, magazines, comic strips like Cathy, which made clear that it is VERY IMPORTANT to have a date on New Year's Eve. The jokes were always about starting the long and difficult search for a New Year's Eve date on January 1, and whether or not to breakup a relationship too close to Thanksgiving.
My family did not celebrate New Year's Eve that way. We usually went to visit relatives in Los Angeles over the holidays, so I spent many a New Year's Eve freezing overnight on Colorado Boulevard, staking out seats for the Rose Parade. Then, after the parade, we made our rounds visiting Japanese American friends' homes for New Year's Day Oshougatsu—ozone soup, burdock root, sushi, sashimi, tempura, kombu.
The one time in my life I ever had a shiny new beau during the New Year's season, I was so excited when he invited me to share New Year's Eve with him and his family in Chicago. My first New Year's Eve Party! A big city filled with skyscrapers! Sparkling lights and fancy hotels! Airports! Taxis! We even attended a wedding together (another first for me). He made reservations for dinner and dancing at the top of a big downtown hotel. I bought the perfect little black dress. I curled my hair. I put on makeup and jewelry. I turned around, and he was asleep. It was 10 pm.
Clearly this was not going to be my American dream.
That little black dress still hangs in my closet, never worn, as a reminder against imbuing things with too much meaning, weighting the details with too much additional "Americanness," desiring the invitation to the ball too much. Perhaps two of my children were born on New Year's Eve to help me create a new meaning, my own meaning, for this day.
Frances Kai-Hwa Wang is a second-generation Chinese American from California who now divides her time between Ann Arbor and the Big Island of Hawaii. She is editor of IMDiversity.com Asian American Village, lead multicultural contributor for AnnArbor.com, and a contributor for New America Media's Ethnoblog. She is a popular speaker on Asian Pacific American and multicultural issues. Check out her website at franceskaihwawang.com, her blog at franceskaihwawang.blogspot.com, and she can be reached at fkwang888@gmail.com.