Posted on
Sun, Dec 27, 2009 : 6:05 a.m.
New Year's resolutions, Hanoi, and other "kedges"
By Dennis Sparks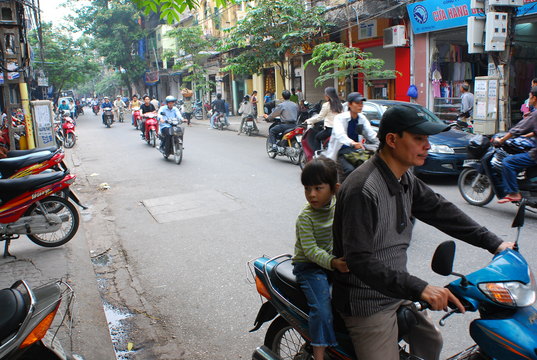 Dennis Sparks/Contributor
This is the season of good intentions we call "New Year's Resolutions." We aspire to lose weight, exercise more, live more balanced lives, de-clutter our homes. In Younger Next Year: Live Strong, Fit, and Sexy—Until You're 80 and Beyond authors Chris Crowley and Henry Lodge introduce another goal-setting concept that truly has the ability to change our lives—"the kedge."
According to Crowley and Lodge, becalmed and threatened sailing ships would load a small anchor (known as a kedge) into a longboat, drop it half a mile away, and "everyone back on the big boat would pull like demons on the line, literally hauling the ship to the anchor." Crowley and Lodge use this process, known as "kedging," as a metaphor and motivational tool for "climbing out of the ordinary, setting a desperate goal, and working like crazy to get there."
Crowley and Lodge prompted me to think back to kedges in my own life. The first I recall was my goal to graduate from college, an intention whose pathway as the first in my family to attend college was littered with obstacles that at times seemed insurmountable. Failure was high stakes given that dropping out of college during the Vietnam War meant draft reclassification and an uncertain future.
Another kedge that immediately came to mind was my decision in my early 30s to leave a secure job about which I no longer felt much enthusiasm to find my way in a new field about which I felt great passion, a decision that put me at high risk of professional failure and financial hardship.
A more recent kedge was prompted by an invitation a couple of years ago to speak at an educational conference in Vientiane, Laos followed by visits to Cambodia and Thailand. I remember both my excitement anxiety rising as the inbound plane flew low over verdant fields on its approach to Vientiane and again a week later as I drove through the Cambodian countryside wondering what kind of reception an American would receive in countries in which my Vietnam War-era psyche still contained many black-and-white news images.
Six months later on a working trip to Bangkok and Kuala Lumpur I spent several additional days in the Old Quarter of Hanoi, a place even in the farthest reaches of my imagination I never dreamed I would set foot.
What these kedges and others had in common was that they stretched me out of my comfort zone and left a permanent imprint that affects who I am today and how I think of the world. As I consider my goals for 2010 and the decade ahead I intend to place a kedge or two on the list to take me out of my day-to-day routines and enrich my life and hopefully that of others. The kedges may be writing projects, trips, or learning things that challenge my worldview. Or perhaps a combination of the three.
What have been your kedges, and how have they changed your live?
Dennis Sparks' "Things Observed" photos and essays encourage readers to slow down to deepen their appreciation of aspects of daily life that may sometimes elude awareness and to see familiar things in fresh ways. You can contact him at dennis.sparks@comcast.net.