Posted on
Wed, Aug 18, 2010 : 6:03 p.m.
Are strictly vegetarian or vegan diets suitable for pets?
By Lorrie Shaw
The pet food industry has boomed in recent years. Years ago, one of our dogs began experiencing allergies, manifesting as irritated paws and angry-looking ear canals. Our vet recommended a prescription diet (whitefish and potato) to address the problem. At that time, only a handful of specialized pet foods were available, and for the most part directly from the veterinarian.
Today, there has been a huge shift in the thinking about what and how pets eat. There are countless purveyors of not only age and species-specific diets, but also those that vary from being grain-free, limited ingredient, organic and one category that has generated a lot of positive and negative attention: a strictly vegetarian or vegan diet for dogs and cats.
Pet owners gravitate toward choosing a vegetarian diet for varying reasons. Health issues (typically directed by their veterinarian) are common, although some folks desire to reduce the impact on the environment or live by their code of ethics.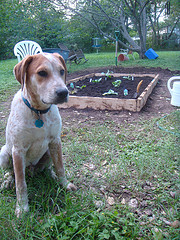 Flickr photo courtesy of ret0dd
Dr. Tony Buffington
, professor of veterinary medicine at The Ohio State University's Department of Veterinary Clinical Sciences,
cited in a recent article
, points out that while canines - who are
carnivores
-
can adapt
more easily to a vegetarian diet, cats cannot: They are
obligate
(strict) carnivores, meaning that most of their nutrition comes from animal sources and their nutritional needs are different.
Feeding dogs a commercially available meat-free diet has in fact been a longtime option in addressing health-related issues. However, the main caveat with feeding felines a vegetarian or vegan diet is that they usually become deficient in taurine - an amino acid essential for proper cellular function. Cats synthesize taurine at a lower rate than dogs, and it is depleted more quickly. Taurine deficiency can lead to problems with vision, and is associated with dilated cardiomylopathy, a type of heart disease.
Commercial dog food companies, like V-dog offer vegan kibble that is fortified with taurine and L-Carnitene - another essential amino acid.
It's important to remember that each breed of canine and feline can be predisposed to organ dysfunction, and a balanced diet that addresses each species' needs is integral in keeping them healthy. Dogs and cats do not metabolize foods - especially some fruits and vegetables - the way that humans do. Before considering a significant dietary change for your dog or cat, do your research, talk to your veterinarian - or seek the expertise of a veterinary nutritionist.
Lorrie Shaw is owner of Professional Pet Sitting as well as a regular pets contributor on AnnArbor.com. She also blogs frequently on More Than Four Walls, and enjoys researching solutions regarding pet wellness and behavior, as well as social issues related to pets, including cats. She can be reached via e-mail.