Posted on
Thu, Jan 5, 2012 : 12:50 p.m.
Adopting an adult dog from a shelter or rescue can be successful if you ask yourself hard questions first
By Julia Levitt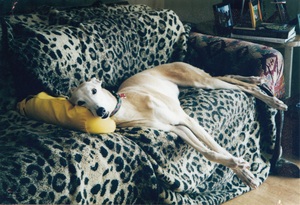 Julia Levitt | Contributor
Many years ago, before adoption rescues for retired racing greyhounds flourished, I was the head adoption counselor for our Greyhound adoption group. We placed many retired racing Greyhounds into appropriate homes.
I emphasize the word "appropriate," as today many adoption groups have been organized for a variety of AKC-registered dogs, and humane societies have many identifiable breeds and just plain Heinz 57s.
There was not a person I interviewed about adopting a greyhound who did not want to do the best for this wonderful breed. Every person had the dog's best interest at heart. However, not every dog is for every person.
So many dogs get adopted between the ages 6 months to a year and a half. This period of adolescence is a time I fondly refer to as the equivalent (for a dog) of a child asking for the keys to your car. Adolescence is hard on everyone, and this is the age when dogs become a challenge. This generally this is the age most dogs wind up in a shelter or rescue group.
What happens during adolescence? It is a period of testing limits and exploring — not listening. Extra time is needed for training and developing good manners.
With Greyhounds, the situation was very different. These dogs were placed in adopted homes because they could no longer be raced for various reasons — too old, not fast enough.
The problem with Greyhound adoption is that these dogs have special needs. The foremost point we tried to make with families was the necessity of having a fenced-in yard.
Coming from the track, Greyhounds have no homing instinct. Unleashed, they often stray. I often heard prospective owners say, "I'll just run after the dog." Unfortunately, a human is no match for a dog that can run up to 40 miles per hour. By the time you realize they are out the door, they are gone.
Another few points we made were these:
Greyhounds have no clue how to go up and down stairs.
These dogs are not used to slippery linoleum floors.
They don't know the sliding door is clear glass (we suggested putting tape or decals on the door).
Finally, they may be fine with a cat or bunny in the home, but outside they will go after anything small and furry that moves.
They are not house-trained.
My point in discussing the different aspects of Greyhounds is this — not every dog fits every lifestyle. While these dogs are adults, many of the same issues we discussed in my last blog regarding puppies also apply to adults adoptees. The remedy? Research as much as you can about the dog you are planning to adopt.
Will this dog fit your lifestyle as an active person who likes to walk and run? Or are you more in tune with a friend of mine who said, "My idea of exercise is turning the pages of a book!"
Rescue organizations are very thorough when adopting a dog. Often times I have heard people become offended when asked to fill out a lengthy questionnaire. From the rescue/adoption group's perspective, though, the dog they are placing has had one home that was not a good placement for human or dog, and they don't want another. Remember my story about Cindy and Red? When the vet checked the dog's microchip, Cindy's was his fourth home!
I was called to a client's home examine a dog's cut foot. I was puzzled, since I am not a vet. When I arrived at the home, the situation was very scary. The dog's cut foot was due to the fact the dog broke a window attempting to jump out after another person and dog walking down the street.
This 90-pound dog was adopted by a family with three small children under the age of 10 — I mention this only because I want you to think about where the child's face is in relation to a dog's mouth. The father proudly boasted this dog was abused! What part of this sad situation makes sense to you? None of it does to me!
As you can see, adopting an older dog takes effort — patience and a lot of love. The same thoughts apply when adopting an older dog as does a puppy:
1. Do your homework.
2. Ask yourself the tough questions first before you go to an animal shelter and want to adopt a dog. Don't be like a friend of mine who said, "I wanted the dog because it has soft ears."
3. Go to a shelter many times before you adopt.
4. Ask questions — it's the shelter's job to provide answers.
A few good questions to ask are these:
Does the dog shed a lot? How much grooming does it need? Does the dog have a coat that needs to go to the groomer?
If you have small children, ask can I bring my kids to play with the dog?
Does the dog like cats, birds, snakes, ferrets, bunnies, other dogs or any family pet with whom the dog will share a home.
Does the dog require a lot of exercise?
Does the dog have health issues such as allergies?
How does the dog walk on a leash?
How does the dog get along with other people? Is it friendly or afraid?
Additionally, if you are alone… bring a friend, a person who is objective and won't let you get the hyperactive dog if you work long hours and don't exercise. And always meet the dog in person; never adopt a dog because she photographs well.
Most importantly ask yourself this: Do I have the skills to devote the time to helping this dog adjust and be well balanced?
Remember, just like lunch, there's no such thing as a free dog.
Julia Levitt is the founder of In Harmony Dog Training (www.inharmonydogtraining.com) in Ann Arbor. She can be reached at julia@inharmonydogtraining.com or at 734-645-4707. Julia provides individual training for dogs and their owners, and also conducts dog training classes at Ann Arbor Animal Hospital.