Posted on
Wed, Jan 26, 2011 : 10:12 a.m.
American Airlines no longer allowing snub-nosed pets to travel as cargo
By Lorrie Shaw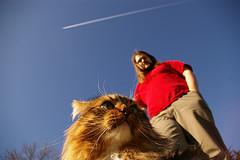 flickr photo courtesy of altemark
Airline travel has become an ever more popular mode of travel for a lot of us, and many travelers are taking along their pets. In many instances,
small animals
, like dogs, cats and small birds are allowed to travel inside the cabin of the plane as
carry-on baggage
. But for those that are too large, they must travel in the cargo area of the aircraft, and that can prove to be a daunting task to manage, especially where heat and extreme cold are concerned.
With flights traveling cross-country to warmer climes or in the summer months when much of the Northern Hemisphere at times experiences high temperatures, this poses a special challenge. Considering the number of flights where pets are traveling in the cargo area, the airlines do a pretty good job of keeping pets comfortable.
Reports of pet deaths this past summer brought a lot of public focus to the issue.

An article in the September issue of the Journal of the American Veterinary Medical Association detailed findings from airline reports filed with of the Department of Transportation since 2005 regarding pets on incidents involving the death, injury, or loss of pets during transport as cargo.

Brachycephalic dog breeds, such as Pugs, Japanese Chins, French and English Bulldogs were found to comprise about half of all dogs — 122 canines — that died on United States airlines.
The airlines additionally reported as the deaths of 22 other pets and 88 instances involving injuries to pets or loss of pets.
American Airlines announced that they will not accept snub-nosed pets, including Boxers, Pekingese, Boston Terriers as checked luggage. Brachycephalic cats (Himalayan, Persian, Burmese and Exotic Shorthair) are included. Read the policy here.
Other airlines currently have restrictions and policies in place to safeguard the well-being of pets traveling in the cargo area of an aircraft.
As always, you should always talk to your veterinarian about the prospect of air travel with your pets to ensure that they are healthy enough. For more tips, click here.
Lorrie Shaw is owner of Professional Pet Sitting, and a regular contributor to AnnArbor.com's pet section. She wrote the popular piece "The bucket list for pets: What does your dog want to do before he dies?" Reach her via email.