Posted on
Thu, Dec 17, 2009 : 3:10 p.m.
AnnArbor.com's Holiday Pet Photos: Act 5 - Share yours!
By Suzy Sherman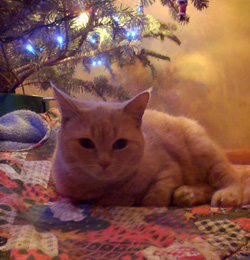 Most of us pet owners have given in to temptation and bought those silly reindeer antlers for our dogs or cats. Chances are you caught the moment in a picture.
Or maybe you've set out with your best friend to visit Santa Paws. However, you and your pet have gotten into the holiday spirit, we'd love to see your pictures.
E-mail your holiday pet photos to suzysherman@annarbor.com and we'll post them here through the end of the year on our Pets page. Be sure to include your name and your pet's name and where you live.
And if you don't have a picture to send, there's still time to have one taken. Bring your pet to the Humane Society of Huron Valley on Saturday, Dec. 19 to have your pets picture snapped with Santa Paws. The photo session will be held from 1 to 5 p.m. at the society's Education Center at 3100 Cherry Hill Road in Ann Arbor. And anyone who adopts a pet that day will have a FREE photo taken!