Posted on
Sun, Apr 3, 2011 : 12:45 p.m.
Counterculture canines played a part in Ann Arbor history
By John Spieser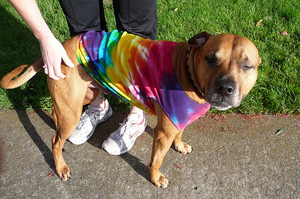 Photo by Bastique, courtesy of Flickr
When I was a kid, Ann Arbor was a city that you heard of frequently in the news — not just local news, but national news as well. I remember the first time I visited thinking, "Wow, we're going to that place."
Passionate protests pushing social innovation and radical movements were once a most notable hallmark of the town and the University of Michigan. Not unlike today, with the cascading plea for democracy and freedom of self-expression igniting across the globe, "Tree Town" USA once led the charge towards political justice, peace, love and a world where all could find acceptance.
Ann Arbor's dog population has been along for the ride.
Yep, back in the day, all an Ann Arbor dog needed was a bright bandanna and a smudging of Nag-Champa before being turned out into the world of spontaneous adventure. The Diag was fertile ground for snooping snouts and proactive paws looking for a handout or some "love," which there was plenty of.
This eventually led to roaming packs of unattended dogs and, in turn, resulted in a (zero tolerance) city-wide leash ordinance, which still stands today. The ordinance not only achieved the goal of clearing downtown streets of meandering canines but put a stranglehold on any proposed off-leash initiative for a quarter century.
A2 dogs and their fluctuating status have shared an interesting parallel with the counter-culture human population in this town.
It used to be that when you strode across town, you expected if not welcomed a unique interruption of sorts. Perhaps you would intercept a parade of chanting, traffic halting Hare Krishna devotees, buy a T-shirt from a persistent guitar gnashing Shakey Jake, have a fire juggler dazzle you into tossing a few coins into a hat or... offer a pet to a town dog making his afternoon rounds.
Fourth Avenue was aptly referred to as the "sin strip" for its hosting of the risque crowd, alongside cooperatively inspired businesses like the Wildflour Bakery and the Del Rio bar, flourishing in their crusade against the status quo.
"Hippies" became icons from an era of unlimited social exploration, and for a while dogs pranced right along to the rhythm.
Ann Arbor, with still plenty to offer, has had a bit of a face lift since those days.
It's true that every city must evolve in various ways, if not only for the sake of greater security/prosperity. Sometimes that means reviewing, limiting and possibly restricting privileges that were once granted without question. In other instances, progressive ideas simply live out their life of positive impact and fade into history.
In the case of Ann Arbor's dogs, what was once a virtual free-for-all of socially liberated canines inevitably resulted in a "taming" of the masses through legal action.
In the case of Ann Arbor's hippies, it seems that social revolution over time gave way to things like parenting, the pursuit of professional careers, and a life of domestic comfort.
In fairness, obvious benefits have been gained in both cases with regard to more sustainable practices and realistic policies that better serve societies collective interests. For example, awareness of the need for spaying and neutering pets is far greater now than it was in the seventies. Daily yoga and spirulina smoothies are now considered normal!
Accountability for your dog's whereabouts is good law, and involvement in your child's education is good policy.
But is there a point where things become too tame, too predictable? Could we be lulled into doldrum by our own well-tailored rules?
If you were to ask the dogs and hippies of Ann Arbor's legacy you may get similar answers, something like: "Turn off the computer and come play in the rain ," "Forget about FB man! It's just another institution." "Let's be even greener!"
Although my own sentiments don't cling too desperately to the past, I do harbor some nostalgia for those days gone by; if we believe that our history is our future's foundation, even if it's silly to hold onto a moment in time forever, at least we can retain its enduring jewels as fuel for continued enlightenment.
It's still true...
An afternoon siesta soothes a weary mind.
Lots of fresh water improves ones mood.
Satisfying the "munchies" (even if it is with organic carrots instead of pizza) feels good.
Spontaneous frisbee (or disc golf if you prefer) invigorates the body.
Smiling and tail wagging spreads positive vibes.
Accepting differences strengthens bonds.
Questioning authority keeps everyone on their toes.
Cheers to the dogs, and hippies, who sniffed up the trail!
John Spieser is a professional dog trainer and owner of Dogheart. He can be reached at john@doghearta2.com.