Posted on
Thu, Jul 22, 2010 : 3:01 p.m.
Animal organizations are well-represented at the Ann Arbor Art Fairs
By Bee Friedlander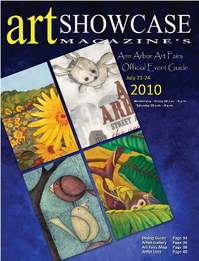 Art Showcase magazine, Lion Tree Communications

The Ann Arbor Art Fairs — love them, hate them, avoid them — are pervasive this week, so let's take a look at how animals impact the fairs. Probably not something most people think about, but it's an opportunity to consider how pervasive animals are in our environment, both natural and cultural.
This is my first post as a community contributor. I look forward to blogging about "pets"—which is my topic—but also more generally about our relationships with animals. A good place to start is with the event of the summer around here.
As you make your way through the fairs, notice how many artists feature animal images in their work. Case in point: the cover of Art Showcase Magazine's Art Fair edition features artists representing each of the four separate fairs. Three of them are animal images.
Animals (or many local organizations working on their behalf) are well represented at the Art Fairs in the nonprofit section (Liberty between Fifth and Division streets). Be sure to visit this area; I've heard various people say it's their favorite part of the fairs! Stop by these and visit these animal or animal-friendly groups who have booths this year. These include:
Animals and Society Institute. Here's the opportunity for me to talk about my "day job" as managing director of the ASI. We are an Ann Arbor-based research and educational organization working to break the cycle between animal cruelty and other violence, as well as to promote the study of human-animal relationships and to advance the status of animals in public policy. This is the fourth Art Fair in a row that we have a booth. Please come by to visit—and if you do, and mention this blog, we'll give you a copy of "Speaking out for Animals," an anthology of articles from Animals' Agenda magazine.
Other pro-animal groups at the Art Fairs this year include:
Mosaic Feline Refuge, a no-kill cat shelter with many great cats and kittens available for adoption (although not at the fair!)
Humane Society of Huron Valley, which serves all of Washtenaw County, including animal cruelty investigation work, and which has just recently opened a wonderful new shelter.
Great Lakes Rabbit Sanctuary, where you can vote for the cutest rabbit!
Veg Michigan, which promotes a plant-based diet because it's healthier, greener and more humane.
SMART (Southeast Michigan Animal Rights Team), a group that educates the public on the many cruelties that animals suffer.
One final thing: with the heat, humidity, storms and crowds, do your real animal a favor and leave her or him at home!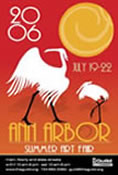 2006 Ann Arbor Summer Art Fair poster
Bee Friedlander is Managing Director (and one of the bloggers) at the Animals and Society Institute, and can be reached at bee.friedlander@animalsandsociety.org. She spends her spare time taking care of her three cats at home and a multitude of others at several shelters where she volunteers.