Posted on
Tue, Mar 26, 2013 : 6 a.m.
Belly-exposing behavior in dogs can indicate trust and acceptance, but it can also indicate something altogether different
By Lorrie Shaw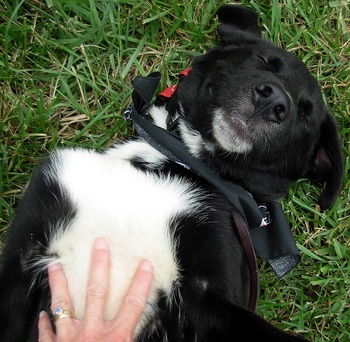 Flickr photo by outlierdogs
In a past post, I've discussed how knowing the difference between good and bad places to touch
is huge when it comes to cats
. It often seems more prudent to be mindful of how we interact with felines.
But dogs are different: in fact, one thing a dog might do after I get to know them a bit on a meet and greet is to roll over and expose their underside for a belly rub. I see this as a good thing; generally speaking, when a dog willingly goes into that position, it's a favorable thing.
I'm all too happy to give as many belly rubs as a dog wants, that's for certain!
Notice that I said "generally speaking." It's important to note that not all dogs who flip onto their backside are feeling completely at ease with a situation, though, and it can be a challenge to know what a dog is communicating.
When I meet a dog for the first time and he immediately assumes a belly up position — and also exhibits a tucked tail and maybe licks his lips — I know the canine isn't comfortable in this social situation. These are signs that a canine feels uneasy and is, for lack of a better descriptive term (I feel it's overused and even confused, but I digress), taking a "submissive" posture.
In this case, it's always best to take a "hands off" approach.
As Dr. Margaret Gruen, DVM, MVPH notes, taking in the non-verbal cues that dogs are presenting, and communicating back to them is key — and that includes not rubbing their bellies.
"For these dogs, the best way to make them feel comfortable is to get low, as by sitting down, and call the dog over without leaning or reaching over them," says Gruen, a Diplomat of the American College of Veterinary Behaviorists and a Veterinary Behaviorist at the North Carolina State University College of Veterinary Medicine.
This is an excellent thing to talk about with children, as teaching them from a young age about how to appropriately interact with pets is vital. For more on teaching kids about being safe around pets, click here.
Some dogs do not like having their belly touched, and it's merely a personal preference. However, if your gentle gesture is met with a snarl or growling, or if your pooch suddenly seems averse to it, it's best to have a clinician have a look at him. Undiagnosed pain, illness or a behavioral problem could be at the root of the reaction, and it should be addressed immediately.
By and large, I find that most dogs fall into the category of being at ease about tummy rubs, which is good news. But an extra dose of mindfulness and understanding what a dog is communicating to you goes a long way.
Click here to read more on the topic on VetStreet.
Lorrie Shaw leads the pets section for AnnArbor.com and owner of Professional Pet Sitting. Shoot her an email, contact her at 734-904-7279 or follow her adventures on Twitter.