Posted on
Tue, Sep 6, 2011 : 6:45 a.m.
Bike riding with your dog is a great way for both of you to get exercise, but is it right for them?
By Julia Levitt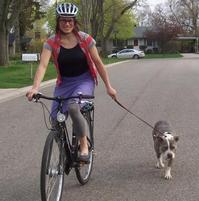 Julia Levitt | Contributor
"I've been riding a bike since I was a kid!" you say. If we add a dog to the bike ride, this changes the entire picture.
The first thing anyone says to me when I ask them if they bike ride with their dog is, "Oh no! My dog will pull me over, or run ahead of me, or chase a squirrel, and over I'd go!"
Okay, that's three things, but you get the idea.
One friend told me that she couldn't ride her bike with her long-haired dog as the fur would get caught in the spokes of the wheels. She continued to say that she needs plastic shields to put in the spokes to keep the long hair from getting caught in them.
Well… some might ask me, "Since you do it, how long did it take you to teach Toshi to run next to you on your bike?"
I didn't teach Toshi to run next to me when I ride my bike. I got on the bike and started riding.
Yes, Toshi automatically moved next to me when we rode down the street.
Well that was easy, Julia. Toshi is small and if he pulled you, you wouldn't feel it anyway!
I have taught many folks who love to ride their bikes and would like their canine companions along to do the same. It is a great form of exercise for you and is wonderful for your dog.
My friend Jess is a marathon bike rider. She has taken tests to certify her as a Master Bike Fitter. Jess brings great enthusiasm and knowledge to her job — which involves fitting and selling bikes.
When Jess and I began to work together, she would ride her bike with her dog, Logan, running at her side. This sounds good, but Jess wanted her hands free, so she sat on Logan's leash as she rode her bike. As you can see from the photo that goes with this blog post, Jess still rides her bike with Logan but in a slightly different way!
Jess reports that Logan can go for miles when she rides her bike. This is in addition to two very long walks a day!
How do you teach a dog to run alongside of you when you are biking?
The necessary steps can be described in one simple sentence: Only if your dog is confirmed walking with you at your side on a loose leash is the dog ready for a bike ride. This is one of these exercises for which you don't have an option. Checklist:

Does your dog walk at your side — on a loose, relaxed lead?

Does your dog ignore squirrels, cats and elephants walking by? (Just wanted to see if you are still with me). On my walks I see a lady with her Brittany Spaniel letting it go to the end of the retractable leash to "see" a squirrel. I don't know about you, but if someone waved a chocolate bar under my nose and jerked it away, I'd be frustrated.

When you walk your dog on a retractable leash, does it pull you down the street and drag you to whatever it sees?

Does your dog mark at what seems like every other step? (This goes for female dogs as well as males dogs.)



Figuring out if your dog is ready is easy. To do so, try this experiment: go on your usual walk. You meet a friend and stop to chat. Your dog:
Jumps on your friend — almost knocking her/him down
Barks and barks at the other person making conversation impossible.
Sees another dog, squirrel, cat — any other distraction — and out of the socket goes your arm!
Drags you. When your dog wants to go, you go, and away you are dragged.

Growls and acts menacing toward another person/animal/car or bicycle (I hope this is not your dog!).


If one — just one — of the elements exist, you and your dog are not ready to go for a bike ride together.
So many different forms of play exist for you and your dog. Does your dog love to chase a ball, or go after a frisbee? When you go for a run, does your dog enjoy running at your side? Swimming, tracking, hiking… you get the idea. It is important for you and your dog to be safe and have fun.
Bike riding is one of many options for fun and exercise for you and your dog. View it as learning a sport. I started with training wheels and built up to zooming along on a bike on my own, but my very patient dad took the time to help me every step of the way.
Please be patient and understanding with your dog. Take the time to teach it to run along side of you. Enjoy the last few weeks of this wonderful summer with your canine friend.
Julia Levitt is the founder of In Harmony Dog Training (www.inharmonydogtraining.com) in Ann Arbor. She can be reached at julia@inharmonydogtraining.com or at 734-645-4707. Julia also teaches dogs and their owners at Ann Arbor Animal Hospital.