Posted on
Thu, Dec 20, 2012 : 5:56 a.m.
Calmness is key when introducing a new dog to your family
By Julia Levitt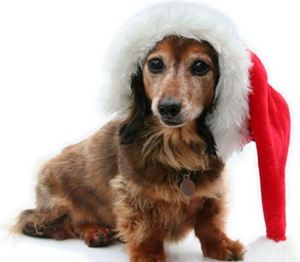 Photo courtesy of kfrog.cbslocal.com
As I was shopping for my peppermint tea at the TeaHaus in downtown Ann Arbor the other day, I couldn't help but overhear an excited conversation between two other shoppers.
"Yes, I can hardly wait until Christmas. The kids don't know it yet, but we are going to be picking up a new Lab puppy the day before Christmas."
"That's great" the other person said. "What color are you going to get?"
"Oh, it's a Chocolate Lab of course."
I stood poised over my purchase waiting to hear more — but instead the conversation drifted off to which store they were going to hit first on Black Friday.
I was hoping that in today's age of information overload, the discussion might have gone more along the lines of "Are you getting your puppy from a reputable breeder rather than a pet shop?" Pet shops often sell puppies from "puppy mills" — from breeders who emphasize profits over the welfare of the animals.
Here are some other good questions a prospective puppy owner might be asked:
"Have you met with the breeder and have they offered to introduce you to both parents of the pups?" If the male dog is unavailable — which is often the case because the breeder may not own the male dog — the female should be on hand for you to meet. The breeder should be able to knowledgeably discuss why they bred to this particular dog.
"Has the breeder had the dog's hips X-rayed? Are they familiar with any issues for which the female and male need to be tested in order to make every possible effort to breed healthy puppies?"
"Will the breeder discuss their contract with you?"
"Will the breeder take back the puppy if it does not work out?"
As I have mentioned many times, it is very important to consider how the energy level of the new dog will match the energy level of your family. If you like to watch TV in the evening and exercise is not part of your routine, an active breed of puppy — which will soon become an active adult dog — is not for you. When people attend my puppy classes, I remind them that the upside of having a puppy is that it is an adorable puppy, but the downside is that this level of puppy energy will not change for at least a year and a half.
While it is difficult to resist the pleading of kids that they will take care of the puppy, you — the responsible adult — will be caring for the puppy. The novelty wears off very quickly, and you suddenly find yourself with an overactive puppy who, out of boredom, destroys everything in sight.
In puppy class, people often talk about their puppy pulling the toilet paper off the roll and running around the house with it, biting (maybe biting you!), chewing up shoes, not having good manners and jumping on guests." After the newness of a puppy has worn off, you find yourself with a puppy which needs attention — something your kids promised to provide but which is suddenly absent when it comes to walking the pup, feeding the pup and cleaning up accidents.
Let's fast forward to Christmas morning when the excitement of your house is at its highest. After the kids have ripped open their presents, you bring in the puppy. The kids squeal, the puppy barks, both the kids and the pup run around.
The puppy pees and poops out of excitement. Guests are beginning to arrive. Everyone wants to pick up the new pup.
Soon everyone is busy talking and opening more gifts. Hours go by — where is the new puppy? I know every holiday gathering is not the same, but what is the same is the high level of excitement in the home. When introducing a new puppy to your home, calmness is key. You want the house to be free of guests, rich foods, and wrapping paper.
When you are bringing in a pet who will be a member of your family for many years, you want to get off to the best start possible.
To quote from Cesar Millan, the "Dog Whisperer": "My most important rule about beginning the relationship between dogs and kids is for you, the Pack Leader, to supervise all their initial meetings until you're comfortable that both dog and child know how to behave around each other. Stay in the background, but be ready to step in if a situation looks like it is going wrong. Just like dogs, your children need to be taught rules, boundaries and limitations. It's important that you do this from the start, so that everyone understands the rules of the pack."
To paraphrase a song from Bing Crosby: "May your days be merry and bright, and may all your puppies start right."
My best wishes to you for the holiday season and the new year.
Julia Levitt is the founder of In Harmony Dog Training (www.inharmonydogtraining.com) in Ann Arbor. She can be reached at julia@inharmonydogtraining.com or at 734-645-4707. Julia provides individual training for dogs and their owners, and also conducts dog training classes at Ann Arbor Animal Hospital.