Posted on
Mon, Feb 13, 2012 : 5:51 a.m.
Attitudes about declaw procedures for cats have changed considerably - what's your position?
By Lorrie Shaw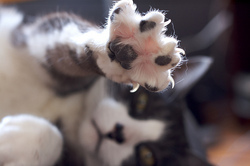 flickr photo by Marcin Wichary
Cats can be fickle creatures, and most pet professionals can attest to the numerous questions that arise from those who share life with felines.
"Why does my cat meow at night?"
"Fluffy keeps peeing outside of the litter box. What is going on?"
"Our cat is destroying our furniture with its clawing. What do we do?"
The latter scenario is very common and probably one of the most difficult to deal with. Can you relate? I can.
Our cat, Silver has always been an especially trying pet to live with. He certainly had a challenging life before coming to us.
In his early years, difficulties with Silver's behavior had posed serious rifts in our household, especially the clawing. He had destroyed several pieces of furniture, and despite our best efforts — the scratching posts, deterrents, trimming his nails — nothing worked.
In fact at one point, I was given an ultimatum by my former husband: have him declawed or find another home for him.
I knew that the latter wasn't an option. Silver, in my estimation, would have not fared well in another home and likely would have been bounced around from home to home or mistreated by others because of his behavioral challenges. I couldn't live with myself knowing that distinct possibility.
After conferring with our vet at the time — and attempts at several different behavior modification methods and other alternatives — I made the decision to have him front declawed.
In the end, it was the right choice; Silver is well into his senior years, he is safe, and I'm thrilled to say is more behaviorally sound than in his youth.
That decision is one that I hope to never have to revisit again, and I know that there are other cat owners who are probably struggling with their feline's destructive behavior at this moment.
The reality is that cats don't claw things because they are trying to be malicious. They do it for physical, emotional and social reasons.
Clawing, quite simply feels good. It stretches the muscles in the shoulder and foreleg and keeps nails healthy. A cat's paws have scent glands that leave invisible cues of ownership to other felines — they warn other cats away from prized feline spots inside or outside. Clawing also serves to comfort kitties if they're fearful or stressed.
Declawing is by far one of the most controversial topics in veterinary circles and among cat lovers. In fact, it's been outlawed in some countries and even municipalities in our own country.
The practice was more accepted in times past, but as of late, there is much dissent for a handful of reasons: we know more about feline behavior, how the procedure is done (there are actually three techniques) and that it's not a medically necessary procedure.
Some people decide that declawing is best because of other factors, like their own health. This includes those with suppressed immune systems or those who have bleeding issues or are on blood thinners. (In the former case, being exposed to any residual bacteria on a cat's claws from litter box waste poses a risk.)
Figuring out why a cat is engaging in the sometimes destructive behavior is important, obviously, and then either providing the right tools to encourage normal scratching/clawing and addressing any behavioral problems or stresses.
Most cats can be trained to scratch in 'legal' areas, like on sisal or carpet-covered cat trees, or cat scratch pads. Click here for tips on selecting the right one for your household. To encourage felines to use these tools, I always recommend sprinkling catnip on them.
There are products available to help discourage kitties from inappropriately scratching, like Sticky Paws (cats don't like the feel of touching any surface that stick to their paw fur) or by employing the use of strong scents, like those in Only Natural pet herbal scratch deterrent. You can spray it on the 'illegal' target directly or you can treat a cloth and drape over the area to help them get the message.
Another approach is to use cat nail caps like Soft Paws is found to be useful.
To address stress-related clawing, — a pheromone-based product — has proven to be a sound choice.
What strategies have worked for you?
How do you feel about the declawing issue? Take the poll below.
Lorrie Shaw is leads the pets section for AnnArbor.com. You can follow her daily pet adventures on Twitter and subscribe to AnnArbor.com's email newsletters.