Posted on
Fri, Dec 21, 2012 : 6 a.m.
Cats routinely pick a diet that is consistent in protein, fat and carbs - if given the choice
By Lorrie Shaw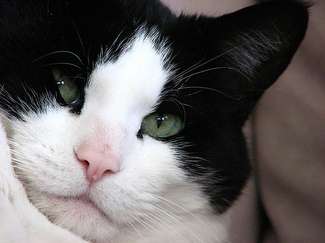 flickr photo by SiLVeR13
One of the most common things that a prospective client tells me when we first talk is, "My
cat
is a picky eater. I hope that doesn't pose a problem…"
It never does, as I'm not averse to adding any number of enhancements to a pet's food to encourage them to eat or mix things up a bit. I do it for my own pets, so long as it's something healthy.
Ironically, our cat Silver is not a picky guy, but I know that plenty of kitties are.
Is yours? You'll be glad to know that they are not alone.
A recent study on a group of felines by the Waltham Center for Pet Nutrition indicates that cats — if given the chance — are mindful of what they were eating instead of just consuming whatever food is plunked down in front of them.
In the experiments, cats were presented with a combination of wet and dry foods (three wet plus three dry; one dry plus three wet; and one wet plus three dry).
The researchers mixed things up a bit: first, the foods were offered all together; then in a three-day cycle. No matter the variations of the experiment, the cats picked foods so that protein made up nearly 52 percent of their daily caloric intake, while 36 percent came from fat, and the balance was derived from carbohydrates.
"This research has important implications for owners as it shows that cats are able to select and combine wet and dry foods to achieve their target intake of protein, fat and carbohydrate," noted Adrian Hewson-Hughes of the Waltham Center for Pet Nutrition.
"In terms of products currently on the market, wet foods typically have higher proportions of protein and fat, while dry foods have a higher carbohydrate content." Interestingly enough, the cats chose from the mixture of foods was similar to what feral cats had been observed to eat in earlier studies.
The researchers noted that this may mean our pet cats have some retention with regard to a diet that's more "instinctual" just like their wild ancestors ate. However, comparatively, feral cats tend to consume only about 2 percent of their calories from carbohydrates. The researchers suggest that domesticated cats ended up with a diet higher in carbohydrates because of the choices included in the experiments.
You can read more about the study by clicking here.
Lorrie Shaw leads the pets section for AnnArbor.com. Connect with her on Google +, on Twitter @psa2 or e-mail her directly.